Rams fall in Althoff
There is no way to get around it; the Mt. Vernon Rams are a completely different team than the squad that took down De Smet and Monroe City in the middle of a seven-game winning streak.
Since then, the Rams are trending in the opposite direction, having dropped their fourth game in a five-game span.
Maybe it's the Rams coming back down to Earth. Perhaps their opponents were just better when it counted. 

The Rams (10-5, 3-1) fell to South Seven conference rival Althoff Catholic (8-7, 4-1) in a lopsided 68-54 result that left Rams fans with more questions than answers.
Mt. Vernon continued to struggle from beyond the arc, only converting six attempts from deep.

The beginning of the game echoed those of games prior and was the polar opposite of the winning formula MV had used throughout November and early December.
While they scored the first points of the game on a 3-pointer from Lukas Cooper, '19, they could only muster seven total points in the first quarter after a basket from Cooper and two free throws from Carson Prost, '21. Meanwhile, the Crusaders dominated offensively, nailing three shots from long-range and another trio from inside to hold a 16-7 lead after one period.

After a disappointing start, Mt. Vernon rebounded with eight points from Amir Spann, '20 and five points from Jackson Creel, '20.
However, their defensive woes were prolonged, as Althoff nailed three 3-pointers in a row en route to a commanding 34-20 halftime lead.

For the remainder of the game, the Rams were able to keep pace. At one time in the fourth quarter, Mt. Vernon was within 10.
However, any hopes of a comeback evaporated thanks in part to Althoff's ten total made three-pointers throughout the game.
While Mt. Vernon remains in a shooting slump from deep, Althoff amounted as many points from downtown alone as the entire team could score in nearly three quarters.

Leading the Rams in scoring was Creel with 19 points, followed by Spann with 15 points, Cooper with seven points, Simon Wilson, '20 with six points, Weston Brockhouse, '19 with five points, and Prost with a pair of free throws.

What could be the cause of the struggles – dating back to Dec. 18th in Salem – that have plagued this talented Rams squad?
While some may be looking at the players for answers, Coach Doug Creel has a different response.

"Don't go pointing fingers at your teammates," said Creel to his players after the game. "We're going to get better."

While the loss dashes their dreams of an undefeated South Seven season, Mt. Vernon still has its 2-0 home record to defend, as they will Tuesday, Jan. 8 against Altamont in the first of five consecutive regular season games at Stanley A. Changnon Gymnasium.
Tip-off for the JV game is scheduled for 6:15 pm, with the varsity game to follow.
About the Contributors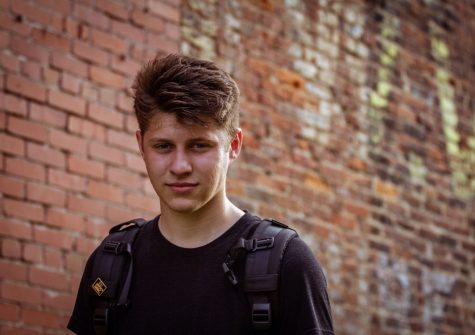 Grant Smith, Editor-In-Chief
When I have an idea, I write it down and share it with you