MV: Home to three state presidents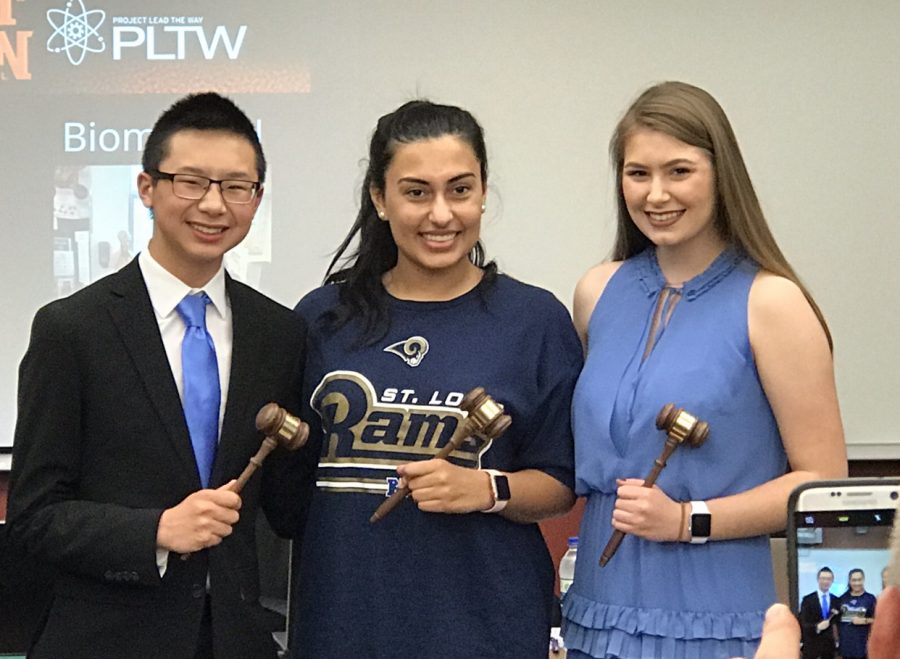 Jon Wilson, Disrict/Administrative Editor
March 19, 2019
Unknown to many, MV has had the privilege to house three State Presidents of major student leadership organizations in the 2019 year.
    This historic feat was accomplished by the outstanding initiative, drive, and professionalism displayed from three current MV seniors.
    In March, 2018, Holly Maher, '19, was elected as the Illinois HOSA – Future Health Professionals State President.
    Throughout her term as President, Maher has attended and presided over multiple board meetings, advocated on behalf for students interested in health occupations, represented HOSA on the Illinois Coordinated Council for Career Technical Student Organizations, (ICCCTSO) and planned this year's State Convention held in Springfield.
    "I enjoy meeting all the students throughout Illinois who have the same career interests. Everyone is passionate and focused on what they are doing and it's really inspiring to be around," Maher said.
    Holding this position has been a transformative experience for Maher.
    "Being Illinois HOSA State President has changed me in many ways, especially how I approach situations. Through this,I have learned to always be prepared and work with all different kinds of people," Maher explained.
    In April 2018, Gatlin Miller, '19, was elected and sworn in as Illinois Future Business Leaders of America (FBLA) State President at their annual State Leadership Conference.
    Aside from presiding over meetings and planning this year's conference, Miller also contributed on the National FBLA level.
    "I had the distinct honor of hosting one of this year's FBLA National Fall Leadership Conference in Chicago from November 2nd to the 4th, so that was especially a highlight of my term," said Miller.  
    Miller has found many benefits from holding this position and wants others to know that serving in an official capacity is not all business.
    "I feel like people often overlook how fun it is to serve in a position like State President. Yes, there can be a lot of work, but overall, it's more about working with like-minded students who share your interests and passions. Being State President has provided me with some of my closest friends," Miller stated.
    In May 2018, Priyanka Kaushal, '19, was elected as State President of the Illinois Association of Student Councils (IASC).
    Through her duty as IASC State President, Kaushal has presided over all State Board meetings, communicated with the thirteen member districts and attended several of their events, corresponded with Illinois government officials, and led the State Service Project in partnership with Let It Be Us.
    Aside from the State Convention held in Lombard, IL in May, Kaushal is currently gearing up to emcee the Chicago LEAD Conference held from March 22-24 where student leaders from across the nation and world will attend to further develop their leadership skills and gain insights on our to improve their schools and communities.
    Kaushal encourages all who are interested in serving on a state level in the future to pursue the opportunity.
    "Go for it and don't let anything hold you back. We may come from a small town in Southern Illinois, but our strong, supportive school allows us to have the opportunity for success," Kaushal stated.
    To have one State Officer of a established and large student organization is impressive, but to have three State Presidents from three powerhouse organizations in the same is unprecedented.
    It is certainly something to be recognized and proud of but more importantly, it is a testimony of the amount of support and opportunity provided to students here at MV.
    We don't just participate – we excel.