Seniors receive scholarships, awards at Honors Night
Hang on for a minute...we're trying to find some more stories you might like.
On Thursday, May 16, 2019, members of the class of 2019 attended the 114th annual Honors Program held in Changnon Gymnasium.
The program began at 7:00 PM and lasted until 9 PM.
Honors Night is an annual program held to announce the winners of various community scholarships to seniors, their families, and the community.
Following the introduction to the program, a choral performance was presented by the MV Concert and Treble Choir. The two songs sung: "Grow," and "Africa," were directed by Choir Director Ms. Chelsi Wilson.
In order of time awarded, the scholarship winners are as follows:
Silas & Mary Kate Echols Scholarship Award: Cameron Steele
Student Council Scholarship: Minh Nguyen
Lloyd R DeWitt Journalism Scholarship: Jonathan Wilson
National Honor Society Salutatorian: Pryanka Kaushal
Frederick Oehm, Sr. Education Foundation Award Scholarship: Derek Hill, Priyanka Kaushal, Gatlin Miller, and Jonathan Wilson
Peoples National Bank Scholarship: Haleigh Harpole, Maggie Piper, Madison Waters, Cameron Steele, Emma Wilson, Sophie Laughlin, Madilyn Berry, Addison Sargent, Jonathan Wilson
Rotary Club 6510 Foundation Scholarship: Gatlin Miler
Mt. Vernon West Rotary Club Scholarships: Voting on 5/20/19
The Aspire Scholarship: Priyanka Kaushal
Oza Family Foundation Scholarship: Ashley Reynolds
Clarence Wilson Memorial Award Scholarship: Cameron Steele
Dr. G. L. Taylor Memorial Scholarship: Holly Maher
Shelter Insurance Foundation Scholarship: Holly Maher
K.A. R. E. Scholarship: Priyanka Kaushal
Barbra A Fullerton Memorial Scholarship: Derek Hill
Kiwanis Club – Randy Smith Memorial Scholarship: Ashton McPherson
Kiwanis Club – Pete Harp Memorial Scholarship: Faith Bell
Kiwanis Club – Charles Rohlfing Memorial Scholarship: Maria Byars
Kiwanis Club – Don Peacock Key Club Scholarship: Weston Brockhouse
Everett D. Nola V. Greer Scholarship: Addison Mays
Livingston Pharmacy: Brooklyn Kelley
Jaycee's Joe Torregrossa Memorial Scholarship: Gatlin Miller
Jaycee's Wendell J. McReynolds Memorial Scholarship: Gatlin Miller
Anne R. Beveridge Memorial Scholarship: Jonathan Wilson
Peggy Simmons Memorial Scholarship: Jonathan Wilson
Mt. Vernon Rams Gridiron Club Scholarship: Kolbey Gentles and Chase Belangee
C.E. Brehm Foundation Scholarship: Kaijah Weller
Genfed Financial Credit Union Carroll Prather Young Scholarship: Maggie Piper
Delta Theta Tau Sorority Thelma Latta Music Scholarship: Addison Mays
Good Samaritan Hospital Auxiliary Scholarship: Nicholas Sursa, Kaijah Weller, Priyanka Kaushal, Minh Nguyen, Arayana Stringfellow
Mt. Vernon Masonic Lodge Hubert Payne Memorial Scholarship: Kaijah Weller
Jefferson County Unit of Retired Teachers Association Scholarship: Maggie Piper
Kaskaskia Valley Community Credit Union: Madilyn Berry
Mt. Vernon Rams Booster Club Scholarship: Kaijah Weller and Weston Brockhouse
MVTHS Sports Hall of Fame Scholarship: Isaiah Bradshaw and Addi Sargent
Hi-Tri League Scholarship: Haley Sheff
Hi-Tri League Ashlee L. Bailey Memorial Scholarship: Haley Sheff
The Emma Caserotti MVTHS Educational Scholarship: Maggie Piper
FFA Alumni Scholarships: Hailey Mays, Jacob Kueker, Nickolaus Elliott, Ashley Reynolds, Macy Marthaler, Maria Byars, Sadie Southered, Elma Gilbert, Magnolia Hamson, Cassidy Chaarlton, Matthew Walton
The Mt. Vernon FFA Alumni Linda Carlton Agriculture Scholarship: Zachary Reynolds
Crosswalk Community Action Agency: Gavin Greene and Logan Greene
Community First Bank Scholarships: Maggie Piper, Cameron Steele, Magnolia Hamson, Isaiah Bradshaw, Kaijah Weller, and Brooklyn Kelley
Illinois Sheriff's Association Scholarship: Brooklyn Kelley
BPOE Mt. Vernon Elks Lodge 819 Scholarship: Madilyn Berry and Weston Brockhouse
Joe McDermott Memorial Automotive Scholarship: Rusty Lowe
Mt. Vernon High School Maintenance, Custodial, and Culinary Scholarship: Seth Beal
Mt. Vernon District 80 Foundation Scholarship: Haleigh Harpole
WMIX AM & FM Radio Award: Kathrine Camaione, Madilyn Berry, Zachary Reynolds, Lukas Cooper, and Chloe Flanigan
Rend Lake College Foundation Scholarships: Seth Beal, Madilyn Berry, Gabriana Boles, Paul Camaione, D'Marcus Craig, Bethany DeLauder, Abigail Ellis, Maranda Emerson, Chloe Flanigan, Kolbey Gentles, Elma Gilbert, Magnolia Hamson, Chandler Jines, Jacob Kueker, Hailey Mays, Madisyn McCulley, Alexis McKinney, Ashton McPherson, Sanae Moore, Ashley Reynolds, Katherine Sexton, Nick Sursa, Casey White, Chipper Wright, Tyneisha Young
About the Contributors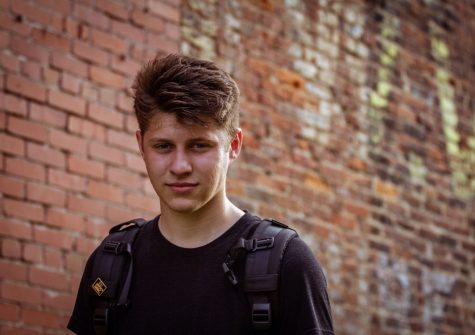 Grant Smith, Editor-In-Chief
When I have an idea, I write it down and share it with you