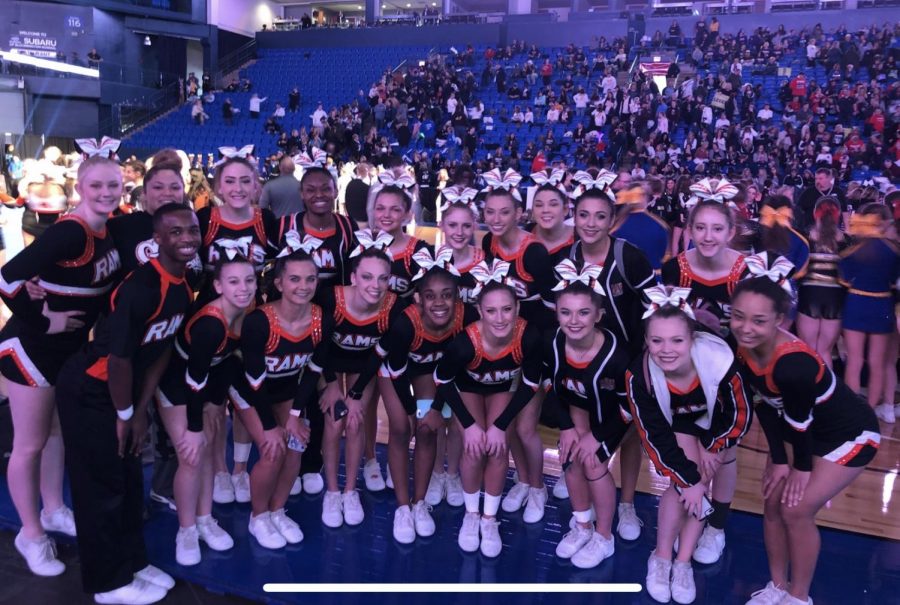 MV's Cheerleading team made school history at the 2020 IHSA Cheerleading Championships, advancing to the state finals and placing 7th. This is the highest placing cheerleading team in school history, and only the third team from MV, and the first since 2006, to advance to the state finals. 
The Rams had an impactful season composed of hard work that allowed them to compete at the state level. 
"At the beginning of the 2019-2020 season it was really rocky. We had lots of setbacks with injuries and also people quitting. As football season came the team started to pick up the pace a little bit. We all started getting stronger and more into that competitive mindset. After football season, the competition mode was on. People started getting new skills but also perfecting the ones they already had," said Kavion Millsap, '20.  
"We got new coaches so with them coming in they assisted us with getting new stunts and other skills higher on the rubric that would help us get to where we wanted to go," Millsap added.  
"We really worked on advancing our stunts to be able to compete with the teams at IHSA state. I felt like our attitudes were always positive and everyone on the team wanted it more than anything, so that always helps as well," said Raeghan Fitzgerrals, '20. 
"We really bonded as a team this year and felt more like a family. This really helped us as a team on and off the mat. We could go to each other for anything and we especially knew we would be there for each other on the mat," said Maddie Lane, '20. 
"We practiced almost every day and worked our butts off at every single practice. There wasn't a practice where someone wasn't sick and still practicing or even hurt," said Elisabeth Blumeyer, '22. 
The team headed for State with excitement for the competition ahead, as well as a calm mindset and confidence in their team. 
"As we left for Bloomington I was confident that we would hit our routine well because we had met the goal of even getting to go to IHSA Prelims and we could go out there and just perform," stated Lane. 
"Going into state I thought about all of the time and work we put in just to get there so whatever happens, happens," exclaimed Millsap.
"I knew I would be happy with whatever we got and I was happy to be there with my team," said Raegan Henry, '20.
"Heading to the competition I was pretty nervous, but we had put in so much time and effort to get to that point so I was very confident and trusting in my team," said Blumeyer.
The team's confidence in their abilities proved effective as the team qualified to move on to the state finals and compete in day two. 
"When they called that Mt. Vernon would be performing for the top 10 on day two I was speechless. We all sat in utter shock and just looked at each other as if we weren't sure that we heard correctly. I immediately started crying because I knew how bad we all wanted it, especially us seniors. We've been working for this since my freshman year. All of our hard work had paid off and it was definitely a dream come true," explained Lane. 
"We were not expecting to advance to day two whatsoever because of how amazing the competition is up there. I remember us even planning to come back to cheer our boys on against the Orphans before awards, but when they called our name it was the greatest feeling in the world. Our senior class always said we would be the class our senior year to advance to day two and we accomplished that goal," said Fitzgerrals. 
"I was literally shook. We've gone to IHSA State three years in a row and never made finals. And all of the seniors on the team said at the beginning of competition season that we were going to be the class that takes us to day two, so we knew we made history," said Millsap.  
"When they announced that we would be advancing to day two I completely froze because I did not believe it," said Henry. 
The Rams took the mat on day two and left with 7th place, the highest any cheerleading team has placed in MV history. 
"After day two, we were so curious to know what we would place out of these amazing 10 teams. I wasn't going to be sad or disappointed if we were even 10th because at least we were in the top 10 in the state. Our coach said 7th and I thought she was joking. We knew on day one that no team had placed higher than 8th and we all immediately knew we had made history and it was such an honor to bring it back to MV," said Lane. 
"When our coaches told us we were in 7th place we screamed! Everyone knew history was made and we're so glad it was our class that did it," expressed Millsap. 
"Just being able to have the opportunity to compete the second day was more than we could ever ask for. When Lisa told us that we placed 7th it was again the best feeling ever," said Fitzgerrals. 
The 7th place victory served as a rewarding conclusion to the team's season, as well as to the seniors' careers as Mount Vernon Rams. 
"The cheerleaders 2019-2020 season was extremely good and productive. We worked nonstop and never gave up on our goals or each other," stated Blumeyer. 
"I am so satisfied with this season and I couldn't have asked for a better way for my senior cheer season to go," said Henry. 
"I couldn't have been anymore grateful for this team to be the last team I ever cheer with. There was just something special about our team and the bond that we have. We all worked so hard to accomplish our goals and we definitely had a successful season," said Fitzgerrals. 
" [The] 2019-2020 season had to of been the best out of my four years. I've loved every year but my senior year felt different. We were all so close and I've never felt such a family feeling with a team before this one," said Lane.
"It's so surreal that this was my last year. Some of my seniors and I have competed together since grade school and to see it end is the saddest thing. I know we will all stay in touch with each other and I'm so glad to be ending on such an amazing year," Lane added.