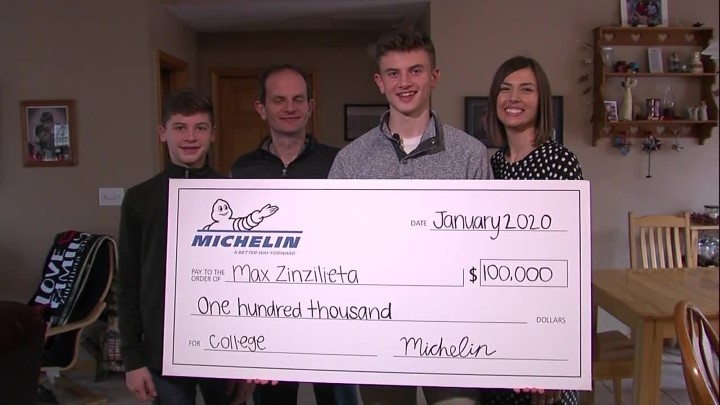 Max Zinzilieta, '20, recently won the Michelin "A Penny for a Free Ride" scholarship, in which he was given $100,000 towards college. 
"When entering, I didn't have confidence for a second that I would win," said Max Zinzilieta, '20. "It's a national scholarship out of thousands of entrants… [I thought] there's no way I would win."
However, Zinzilieta was shocked when he was later on awarded the "A Penny for a Free Ride" Michelin college scholarship. 
"When I found out I had won I was absolutely blown away," said Zinzilieta. "It meant that life would be different from that point on."
To enter, Zinzilieta had to take a photo of himself checking his tire tread with a penny and submitting it to Michelin. 
"My mom and I were going through scholarships and she told me to do that specific one, as it was so easy there was no reason not to," said Zinzilieta. 
"I was so excited to hear about Max winning the Michelin scholarship," said Mrs. Caitlin Klaybor, senior class counselor. "I always tell students to apply for national scholarships because even though they have a smaller chance of winning them, somebody still has to win and this proves that even small town students can!"
Zinzilieta is planning on attending SIUE in the fall. 
"At this point, it is still susceptible to change," added Zinzilieta. "But, the sweepstakes will give me the chance to double major if I want to in college."