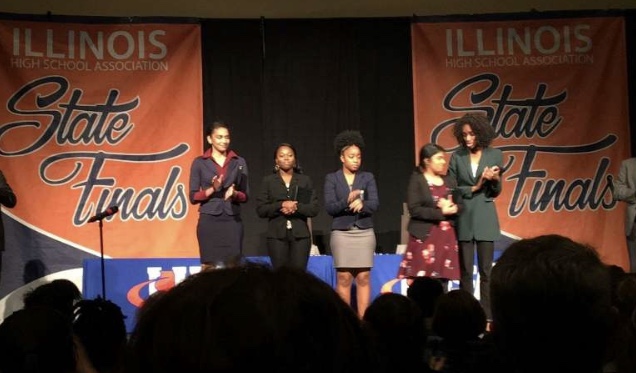 Omari Jackson, '21, had a successful Speech and Acting season with a concluding victory of ranking top 3 in the state of Illinois. 
Jackson competed in various competitions in order to advance to the state level.
"I had to compete in two competitions prior to state, first I had to compete in regionals where I placed 1st, then I moved on to sectionals where I placed 2nd," said Jackson.
After regionals and sectionals, Jackson advanced to the state competition, which was held at the Peoria Civic Center in Peoria, Illinois. 
In a wide range of options for Speech and Acting events, Jackson chose to compete in Poetry Reading. 
"At state we start off with 2 regular rounds, where we compete against 6 or 7 other competitors. They tally up our scores and the top 6 move on to a final round, where we compete against each other. Then they rank us from 1st to 6th," explained Jackson.t
"All together 19 people made it to state for poetry reading, and out of those 19 people I was 1 of 6 to make it to finals," Jackson added. 
As Jackson progressed through the state rounds, she was surprised at her advancements to the final round. 
"I was definitely surprised when I found out I made it to the final round. I didn't know whether to cry or scream, I was so shocked. I was amazed that I even made it to state, but making it to the final round was just a completely different level of excitement," expressed Jackson.
Upon competing in the state finals, Jackson placed third in poetry reading. 
"When they called my name for 3rd place I was astounded. To think that I was ranked top three poetry speakers in the state was absolutely insane. I really felt like the work that I put in at the beginning of the season had paid off. I was very happy with where I place and I hope to place higher next year," said Jackson. 
"I am very proud to say that I was able to represent not only my team, but I was able to represent my school, at the IHSA State competition. This is a moment that I will never forget and I thank everyone at MVTHS for their love and support!" exclaimed Jackson.