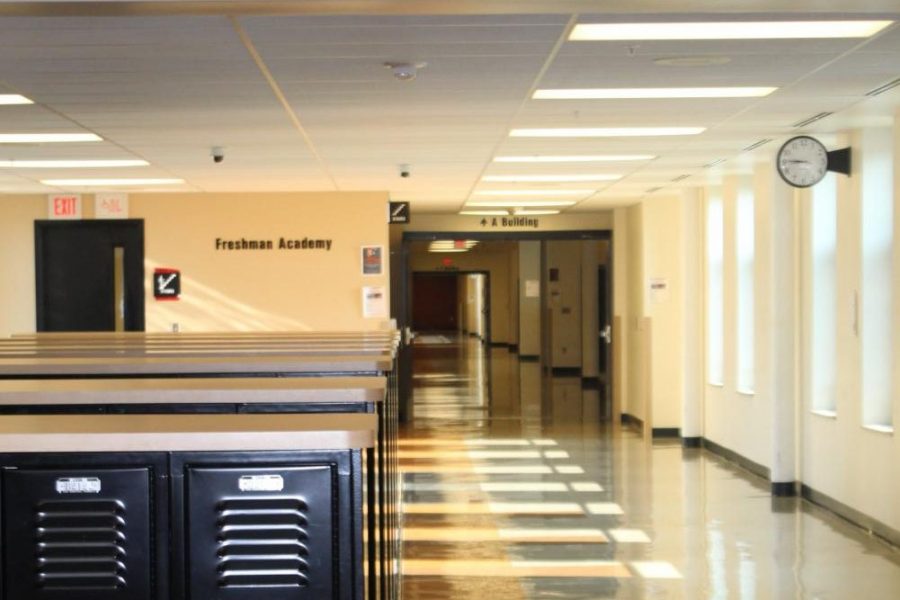 On March 17, 2020, Illinois schools shut down due to the COVID-19 pandemic. After a long dismissal from campus with remote learning and summer vacation, students will return to the MVTHS campus for the upcoming school year. However, this year will be immensely different from previous school years due to COVID-19 regulations. 
The 2020-2021 school year will begin on August 17 and August 18. In order to maintain social distancing on campus, students have been divided into two groups – A and B. Group A will attend in-person learning on campus every Monday and Wednesday, while group B will attend in-person learning on Tuesdays and Thursdays. Neither group will be on campus on Fridays.
In-person school days will also be on a shortened schedule to reduce students' and staff's potential exposure time to the coronavirus. Instead of the original 8:10 A.M. to 3:09 P.M. schedule, students will now attend school from 8:30 A.M. to 1:45 P.M. 
On days when students are not on campus, they will partake in remote learning from their homes. However, remote learning will be different than it was at the conclusion of the 2019-2020 school year. This year, all remote learning assignments will be counted for a grade, and students will be expected to engage in simultaneous learning with their in-person peers. Students will be required to log on via Google Classroom, Google Meet, or another platform to their specific classes during their remote learning. 
"One of the things we were able to purchase with some grant money were webcams for all of the classrooms. . . . So, all students at home will have the opportunity to connect live during in-person instruction and have an opportunity to see whatever is presented that day in real-time and ask questions. It will not be the same as being here in-person, however at least having an opportunity to participate in those discussions is better than not," explained Mrs. Melanie Andrews, Superintendent. 
Teachers will also be available during their conference periods after normal school hours from 1:45 to 3:05 P.M. each school day to answer any questions students may have remotely. 
Once students arrive on campus, their daily routines will change as well. All students, staff, and campus visitors will be required to wear a facial covering at all times. Students will also undergo health screenings upon their arrival at school. Bus riders will have to fill out a self-check sheet that will be mailed to the homes of students before school starts.  
Mr. Michael Koehnke, Assistant Principal stated, "Students can not get on the bus if they don't have the self-check sheet with their parents signature." After students exit the bus, there will be four to five staff members who will check their temperatures at the campus entrance. 
Students who are dropped off are meant to remain in their vehicles while a staff member comes to check their temperature. Students who drive themselves will walk on the center walkway of the parking lot and a staff member will check their temperatures as they walk toward the school. Students who have a high temperature will be sent to the attendance office for the nurse to do a secondary check-up.  
"The biggest thing I want to stress is: in the back parking lot, students that drive use that center walkway," said Mr. Koehnke. 
Once students are cleared to enter the building, they will notice a change in how they move throughout the campus. Hallway traffic patterns will be adjusted to accommodate for social distancing guidelines. 
"Basically, the hallways will be just like driving down the highway. Walk on the right-hand side, be courteous to the oncoming, if you need to cross over try to maintain a 6 feet distance. We would like for students to stay in single file as much as possible. The biggest thing is to clean up the loitering in the hallways, we really can't allow students to be standing and visiting," said Mr. Koehnke. 
"Our hallways are 9 feet wide, so even though we're going to have two-way traffic we still have the ability to social distance. We're also working to make our stairwells one way, so one staircase will be up and one staircase will be down," said Mrs. Andrews. 
Lunch procedures will also be altered to accommodate for social distancing. Lunch will no longer be held in the cafeteria, but in designated classrooms. There will be 12 to 15 students assigned per classroom in order to ensure social distancing can be exercised. Teachers will take attendance, and lunches will be delivered to classrooms from the cafeteria. 
"There will be a sack lunch or box lunch. There will not be any choices though until we kinda get our feet wet and see how things are going until we expand the menu," stated Mr. Koehnke. 
"Students can bring their own lunch and drinks," Mr. Koehnke added, "The only drink that will be offered at lunch is milk, so if students do want water or some other item they want to bring, they can bring their own water for lunch."
Classroom procedures and learning methods will also be adjusted. Desks will follow a layout that enforces social distancing, and class sizes will be reduced due to the separation of students into groups A and B. The utilization of learning practices such as group projects will be removed, unless they can be done while practicing social distancing or through online applications.  
"Think of this as a new opportunity to think outside the box. Don't think of it as a negative," said Mrs. Andrews.  
A change in the cell phone policy will also be enacted this year. Since lockers will not be utilized, students will be allowed to carry their devices on their person. However, the use of them throughout the school day is still prohibited. Devices must be turned off and put away by the 8:25 bell. 
After school extracurriculars will also have to adhere to the COVID-19 regulations. Clubs and organizations are allowed to hold meetings as long as they follow the guidelines, such as social distancing, capacities of no more than 50 people, and the wearing of masks by all participants. Athletics must also follow the basic guidelines and have postponed or rearranged certain seasons as an extra precaution. Regulations and information for specific sports can be found at www.ihsa.org/Resources/COVID-19.  
If a student disobeys COVID-19 guidelines, a staff member will first inform the student of the correct way to follow the guideline they have violated. If the student continues to defy the rule, administration will institute the normal procession of disciplinary actions. If students cannot comply they may be moved into full remote learning. 
This year will be drastically different than previous school years, but the staff hopes that students and parents will keep an open mind to the mandatory changes implemented on and off campus.  
Mr. Koehnke stated, "I just hope students and parents will understand that this will be new to everybody and we'll try to make it the best we can and keep improving for however long we're in this." 
"It's going to be a different year, but I hope anyone in the district doesn't dread the year. It's going to be a challenging year, but challenging can be a good thing," said Mrs. Andrews. 
Mrs. Andrews added, "This isn't the end, it's only the beginning. Hopefully the end of the year will look much more like what we're used to."