Plummer: It's time to get behind Rams football program
Mount Vernon once dominated the South 7 Conference as a powerhouse football school. Stories of legendary games in J.D. Shields Stadium at the old campus are still shared in the community; from 2002-2008 the Rams made the playoffs six out of the seven years. Teams such as the 2005 Rams team were must-see football, going undefeated through the regular season and losing only in the third round of the playoffs. The atmosphere at games was legendary in Shields… the stands were packed to capacity, the band was blaring music, cheerleaders lined the sideline, the cheers and cowbells rattled from the many fans in the stands, the train horn blew each time the Rams scored a touchdown, and the sweet sound of pads smashing against other pads rang across the stadium.
Football games aren't like this anymore. Yes, a large majority of those aspects are still around today… there are still fans, cheerleaders, the band, and this year, even the train horn is back. But if you ask any long time Ram fan at a game, they will tell you it's not the same. As both a player and a fan of sports, I understand why: Football isn't fun when you aren't winning. It's hard to get excited about a team that loses.
Experiencing a losing season in high school sports sucks. When a team doesn't win any games, it feels like they're at the bottom of an endless pit. Mount Vernon football is all too familiar with this feeling. Over the past two seasons, Rams football has a combined record of 1-14, and it hasn't made the playoffs since 2013. And, since 2015, a grand total of five different head coaches have taken over the football program. All of this is just to illustrate the fact that, in recent history, Rams football hasn't exactly been the most beloved team at the high school. However, those losses are not for a lack of effort.
As a player, I can promise everyone that we don't want to lose. I can also promise that the work put in by the vast majority of players is more than you would ever imagine. I feel that the problem exists within the culture surrounding the football team within the school. Students just don't come out and play football. Too many athletes are now playing only a single sport year-round, and there are plenty of students who don't participate in any sport and aren't involved in anything that choose not to play. This isn't the case with other schools in southern Illinois. Comparing schools numbers-wise, the top schools in the South 7 have around one hundred players involved in their football programs which includes JV and Varsity teams. In contrast, MV has around fifty. Needless to say, that's a large gap. The lack of players hurts the team.
Players on the Rams football team hear what everyone has to say. They hear all the negative talk, and it seems like it's to the point where you rarely hear anything positive come out of peoples' mouths. It's time to make a culture change with how people view the football team. Instead of talking about how bad the team is, students need to come out and be a part of the change. Show your support, and display your Ram pride.  And, for that matter, get involved.
People are quick to talk about what needs to be better, but won't help make a change. It's time to help bring Mount Vernon football back to its glory days of packed stadiums, enthusiastic crowds, and winning games.
About the Writer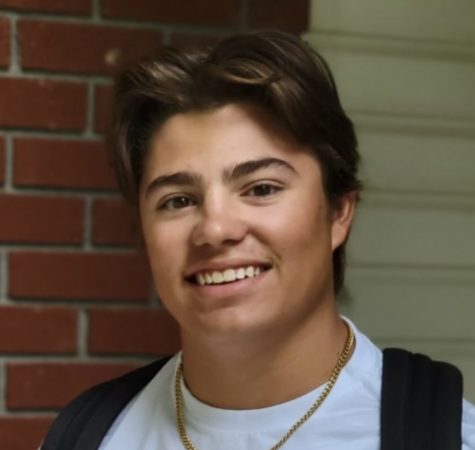 Caden Plummer, Senior Columnist
Plummer, a senior at MVTHS, is a member of Rams football and track.  Plummer examines sports-related issues in his column, "An Athlete's View."