Meet Wesley Newman, MV Black Belt junior
Newman displays Taekwondo skills during C Lunch on December 1
It was December 1 … 6th period lunch, students could hear an uproar of noise coming from the back of the cafeteria. If anyone were near this west side view or moved back there to see what the fuss was about, they quickly witnessed an unusual scene.
There, through the cafeteria windows, students noticed Wesley Newman, 23', practicing his Taekwondo moves in the outdoor space by the cafeteria. C lunch students began cheering him on, then even started chanting his name as he reentered the cafeteria.
What are Newman's interests and background in Taekwondo?
"I joined Hawkins School of Taekwondo and Self-Defense in 2014," stated Newman.
In case students don't know, Taekwondo is a Korean form of martial arts most known for a kicking fighting style. It is also used as a method of discipline distilled on students of the martial art.
Newman shared, "I have been practicing TKD [otherwise known as Taekwondo] for over seven years now. I started about a week after I had been jumped in my neighborhood by a couple of eighth-graders wanting my bike. I was in 4th grade at the time."
Newman started at a younger age to learn self defense and gained lots of success due to his dedication.
"I have achieved the rank of 2nd dan (pronounced d-o-n) black belt. At competitions I've gone to over the years, I have won gold twice in sparring divisions, four times in form divisions, and three times in board breaking divisions," Newman added.
Were there any life lessons learned through Newman's years of Taekwondo?
Newman answered, "One of the most important things that taekwondo has taught me is that sometimes you can learn more from your failure than your successes. Sure successes are great and they show you have a good idea of what you're doing, but your failures show you what you need to improve upon to get better."
Great things came to Newman through his Taekwondo experiences, I'm sure you wouldn't want to mess with this black belt.
Now what about other parts of his life, what are Newman's interests?
Newman shared, "After high school, I want to go to college for either engineering or psychology. I coll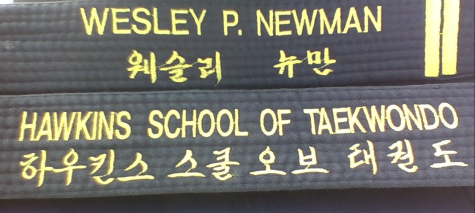 ect toys and coins and in my free time, [and] I enjoy researching personality psychology and practicing TKD."
Students wondering what Newman's reaction to the commotion caused by the students of C lunch.
"I was surprised, embarrassed (though it doesn't take much at all to embarrass me), happy, and nervous all at the same time," stated Newman
Lunch supervisor and MV Dean of Students Mrs. Tricia Reeves expressed, "Wesley has very impressive Taekwondo skills and it was exciting to see his classmates being so supportive and encouraging to him."
Fellow C lunch students share their impression of Newman's display.
Charlie Houle, 23', stated, "I was impressed and surprised. It's not every day that you see high quality Taekwondo, especially at school."
Jude Erasmus, 23', simply added, "Raw!"