End of semester approaches; MV students deal with increased stress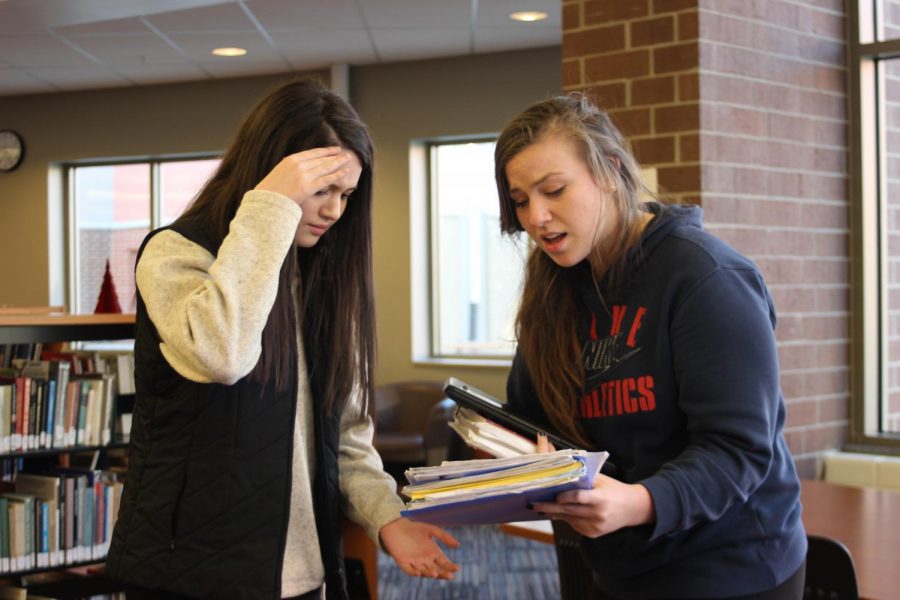 As the end of the semester nears, many MV students have reported feeling greater levels of stress than in the rest of the school year so far.
"I get stressed, but it is different levels of stress each day," said Nevaeh Johnston, '20, "I feel stressed [the most] before tests, or about what I am doing after school."
"I am a very stressed person because I want to do well in everything," said Lauren Berry, '21.
Causes of students' stress range from school to home life.
"When there is a lot going on at once, it's hard to make time to relax," said Jackson Mays, '20.
Several students reported the main cause of their stress is difficult classes and homework.
"Typically teachers will start to pick up the pace with assignments right before the semester ends, and all of it is very overwhelming in all of my classes combined," said Caitlyn McDanel, '19.
College applications and preparations are often a cause of anxiety for seniors.
"I feel very stressed out lately due to a combination of grades and the college application process," said Joey Spadaccini, '19.
Both outside and inside of the classroom, many students reported feeling pressure from their peers.
"At school I definitely get anxiety around all of the people. There is so much going on socially," said Berry. "I sometimes feel as if I do not fit in."
"I don't want to be fake to try to fit in," added Berry. "I always want to be myself."
As the majority of teens use forms of social media, pressure to fit in or keep up with trends can lead to stress for some high school students.
"There is a lot of drama that is caused just from social media," stated Ava Barker, '21.
"Popularity on social media is something that seems so important to our society today," said Jillian Launay, '20. "Everyone makes their life look better than it actually is for the likes."
Responsibilities outside of school often add to the stress high school students experience.
"My responsibilities for Christmas programs at church, family, and maintaining my social life and friendships," said Gabe Tisdale, '20. "All the organizations, including Drama Club, also contribute to my stress."
"My family relies on me and my brother a lot, and it gets to be too much sometimes with school," said Barker.
Teens deal with this stress in different ways.
"Spending time with my friends and living in the moment helps keep my stress under control," Tisdale added.
"To be honest, I deal with stress in the most unhealthy way possible," said Berry. "At school I always bottle it up in an imaginary bottle and then once I get home my imaginary bottle explodes and I am an emotional wreck."
"I know how hard it is to put up a front like 'I'm okay,' but it is okay not to be okay." added Berry.
High levels of stress lead to other issues in students' lives.
"This year, I was struck with depression which caused my grades to plummet due to the fact that I lost my motivation and excitement for school functions and assignments," said Launay.
However, some students claim they do not feel stressed.
"I hardly ever feel stressed," said Max Zinzilieta, '20. "I approach one thing at a time and focus on that rather than everything at once."
In a video recently emailed to students, Mr. Jeff Fritchtnitch, Superintendent, advised students and teachers to continue working hard towards the end of the semester.
"It's that time of the year between Thanksgiving and Christmas that is really quite vital for students," said Mr. Fritchtnitch.
Mr. Fritchtnitch added that students may have borderline grades, or final exams coming up.
"I'm asking you all to do something that I asked you to do at the beginning of the school year," said Mr. Fritchtnitch. "That is to maintain your focus, remember why you're here, and to do anything that you possibly can to make sure that your grade is as high as you can possibly get it so you can have the best success here at the end of the semester."
Mrs. Caitlin Klaybor advised students to get organized, and start studying for their exams now instead of cramming.
"Take time to relax and have fun in between studying," Klaybor added.
MV students have also included advice for dealing with stress as the end of the first semester approaches.
"Find a solid friend group," said Barker. "I have stressed with school, family, and other things for a long time and I always know that I can rely on my friends to help me through that."
"Never forget to remind yourself that you are worth it and you've got whatever is coming your way," added Mays.