Rams crush Carbondale, extend win streak to 5
Stanley A. Changnon Gymnasium hosted its first Rams basketball game of the season Friday night, and continued tradition with the 3rd Annual Orange Crush game.

Mt. Vernon (7-1, 2-0) entered the game ranked #9 in the state in Class 3A basketball. They faced a formidable opponent in the Carbondale Terriers (5-2, 2-1), who were ranked #14 in the state going into the contest. Spectators believed they'd witness a back-and-forth duel between the two top teams in the South Seven conference. The night started with a 3-pointer from each side.

That is all the points Carbondale would get in the quarter.

The Rams jumped out to a 19-3 lead and didn't look back. Mt. Vernon led by at least 13 points for the rest of the game on their way to a 57-38 victory. The Rams beat the Terriers for the first time in 2 years, and claimed their spot as the top team in the South Seven in the process.

Mt. Vernon was led in scoring by Amir Spann, '20 with a season-high 25 points to his name. He was complimented by 11 points from Simon Wilson, '20, seven points from Luke Cooper, '19, six points from Jackson Creel, '20, four points from Weston Brockhouse, '19, a three-pointer from Carson Prost, '21, and a free throw from Trey Sharp, '19.

The Terriers were down 19-3 by the end of the first quarter, and 28-9 at halftime. The team, however, battled back and fought for pride. While the result was nearly decided by the mid-game buzzer, Carbondale still kept pace with the Rams and proved a threat.

"It's hard to stay focused when you're up 19 at the half," Head Coach Doug Creel said of the Terriers' attempted comeback. "It's tough to keep that lead."

And keep the lead, they did. Riding off the momentum of their early-game success, combined with a lopsided 77-28 victory in the JV game, the Rams took care of business on their home floor in front of a raucous crowd.

"Big conference win tonight," said Wilson of the victory. "We've got to come back next week and pick up another one."

Of course, "next week" refers to the boys' next game on Friday, December 14th against the Centralia Orphans, who defeated Carbondale earlier in the season. The game will take place at Changnon Gymnasium, and will serve as the finale of the holiday spirit week at MV.
About the Photographer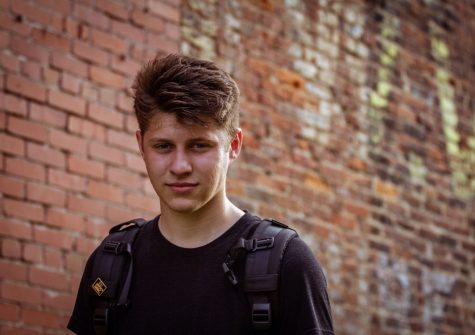 Grant Smith, Editor-In-Chief
When I have an idea, I write it down and share it with you