Rams bounce back with win over TF North
Thornton Fractional North High School, or TF North for short, left their hotel in Salem at around 8:00 am. Twenty-five minutes later, the Meteors had arrived for their game against the Mt. Vernon Rams at Trout Arena in Centralia. 

The Mt. Vernon Rams improved to 10-3 with a consolation quarterfinal victory over the TF North Meteors. The game ended with a score of 53-45 in favor of the Orange and Black. The win puts them back on the winning path, snapping a season-high 2-game losing streak.

The Rams were led in scoring by a nineteen point showcase from Amir Spann, '20, a fourteen point performance from Weston Brockhouse, '19, and a ten point outing from Simon Wilson, '20. They were complimented with seven points from Luke Cooper, '19, and a three-pointer from Carson Prost, '21.

MV's win count hit double digits on Friday morning, reaching the feat an entire month before the 2017 squad did.

The team's tenth victory began similarly to its most recent losses. TF North's first nine points came from three consecutive shots from downtown, but the Rams were able to keep pace with the Meteors for the first eight minutes before taking the lead in the second quarter. Once the Rams took said lead, all the Meteors could do was tie up the ballgame three separate times, and salvage a 25-21 contest in favor of Mt. Vernon.

Coming out of the break, a metaphorical switch was flipped in Mt. Vernon's Spann, who contributed eight points to the Rams' 13-6 run that pushed their lead to double-digits by the end of the third period of play. The game appeared out of reach for the Meteors, but they battled back in the fourth quarter, bringing the game within three points on one occasion, and one point on another. However, fueled by two Wilson steals turning into a Cooper layup and-1 and a Spann dunk and-1, the Rams pulled away with an eight point win to claim their first victory in the 76th Annual Centralia Holiday Tournament.

The Rams advance to the semifinal round of the Consolation bracket to play Chatham Glenwood in the annex gymnasium on Saturday, December 29th. Tip off is scheduled for 10:00 am.
About the Contributors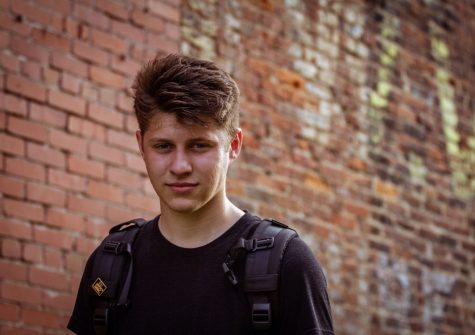 Grant Smith, Editor-In-Chief
When I have an idea, I write it down and share it with you