Rams out of CHT with loss to Chatham Glenwood
On Saturday, December 30th, 2017, the Mt. Vernon Rams were defeated by Cahokia 42-36 in one consolation semifinal of the Centralia Holiday Tournament. 364 days later, the Rams suffered a similar fate against the Glenwood Titans from Chatham, Illinois.

The Mt. Vernon Rams fell to 10-4 on the 2018-19 campaign with a 57-37 loss to the Titans in a game that could only be described as one-sided, especially after the second quarter, in which MV could only muster two points.

The major cause of the Rams' scoring struggles wasn't defensive miscues, as had been the case against Arlington, nor subpar ball control, which plagued the team against TF North. The difference between the Titans and Rams was each team's ability to make their shots. Mt. Vernon shot just 30% from the field throughout the game, resulting in their second-lowest point total thus far.

The Rams were led in scoring by Luke Cooper, '19 with nine points, followed by Jackson Creel, '20 with eight points, Simon Wilson, '20 with six points, Amir Spann, '20 with a season-low of five points, Weston Brockhouse, '19 with five points, and Quani Rudd, '21 and Hunter Simmons, '21 with two points each.

The Rams started out with a 9-8 lead through the first quarter, but only scored two points the rest of the half, and allowed the Titans to score 18 points to give them a 15-point advantage going into halftime. Despite their best efforts, the Rams couldn't manage a comeback against a team that seemed to convert every possession they had into points.

In addition to their two points, Mt. Vernon only had one single rebound in the second quarter. One could presume that this quarter was detrimental, and that Mt. Vernon could have possibly won had it not occurred. However, their struggles on both sides of the ball were present throughout the tournament, and had simply been concentrated and amplified in one single quarter that cost the Rams a chance to return to Trout Arena.

Instead, the Rams will look to regroup when they return to South Seven conference play on Friday, January 4th. Mt. Vernon will travel to play Althoff Catholic, who are considered by many to be the greatest threat to the Rams' reign as the top team in the conference.
About the Contributors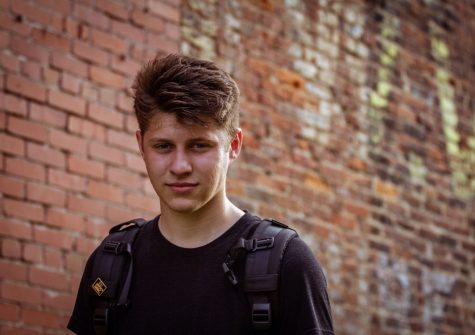 Grant Smith, Editor-In-Chief
When I have an idea, I write it down and share it with you