Former athletes share their experiences in Q and A panel
While the student body at MVTHS was returning from winter break, seven former student-athletes culminated their annual vacation by returning to the place they called home merely a few years ago. On Friday afternoon, these seven hosted a panel in the Schweinfurth Theater to share with potential student-athletes of the future their experiences transitioning to and going to college as a student-athlete. The panel was organized by Ms. Kerry Hammond. P.E classes, other 7th hour classes, and several faculty attended. 
The gateway to college for most student-athletes is recruitment from schools seeking their talents. Sydney Morgan, '17 shared the process of recruitment at the University of Illinois for cheer-leading.
"I contacted the coaches first to let them know I was interested," said Morgan. "You should always reach out to coaches."
Morgan also recommended those interested in certain schools to get involved in their activities.
"Attend a practice, reach out to the team. You'll see how the team works."
Mt. Vernon Sports Hall of Famer and 4-time state champion in cross country Margo Richardson, '10 had similar advice to Morgan.
"You get 5 recruiting visits. If you have the opportunity to take all 5 of your recruiting visits, go for it," Richardson said.
Those visits certainly paid off, as it resulted in Richardson landing a scholarship at Saint Louis University. However, some student-athletes aren't as fortunate in terms of scholarships.
"Putting myself out there was disheartening," said Crayton Turner, '14, who attended Rend Lake College and later graduated from Missouri Baptist University. "There are going to be opportunities out there for you, but they won't always be NCAA Division I."
Another supporter of junior college is Walker Brockhouse, '17, who played baseball at Rend Lake College before transferring to the University of Memphis.
"With the [Junior College] route, there are more opportunities," said Brockhouse. "Teams have more money to break up between players than Division I schools do."
One point that was echoed through every passage of the microphone was the emphasis on academics. Kendall Ryan, '17 attends Welch College for women's basketball, and she attributes the accomplishment to her academic affluence.
"I had an opportunity to play because of my grades," said Ryan.
Josiah Fitzjerrals, '16 wrestles at Wheaton College, a Division III school, and addressed the importance of grades for a student-athlete.
"There are no athletic scholarships in DIII," said FItzjerrals. "Your grades are super important at that level."
Fitzjerrals also noted the amount of dedication it takes to succeed as a student-athlete in college.
"Treat it like a salary job. They're basically paying you to go out there and play your game," said Fitzjerrals. "It's an everyday thing."
While academics and athletics are some of the most important aspects of a student-athlete, one of the most scrutinized parts of one's life is their social media presence.
"You are always reflecting your teammates and your coaches," said Morgan, who later told of a teammate at the University of Illinois that was punished for suspicious behavior in public.
"You need to be aware of how you act on and off the court or the field or the competition floor,": said Ryan.
"The first thing every coach looks at in a potential recruit is your Facebook or Twitter or Snapchat or whatever," said Tyler Williams, '16, who attends Lindenwood University for cross country. "If a coach has two athletes, and one of them is posting pictures of doing drugs and going out to parties, do you think that coach is going to want them?"
The panel wrapped up with their biggest regret from high school.
"My senior year I signed up for easy classes for an easy year. Bad idea," said Richardson. "I should've taken the advanced classes to prepare me for college."
"Dual enrollment is your friend," said Brockhouse. "Take Honors English or any AP class. Take those opportunities. I'll save you a lot of money long-term."
AP and dual credit classes benefited almost everyone on the panel. Turner credited these classes for him being debt-free out of college. Morgan is utilizing these classes, in addition to online courses provided by the University of Illinois, to graduate 2 semesters early.
The College Athlete Panel gave their experiences to a theater full of current students who, if they so choose, have the potential to become student-athletes themselves. Their stories hopefully serve to inspire some students attending MVTHS to dedicate themselves to achieving their dream of becoming a student-athlete.
About the Contributors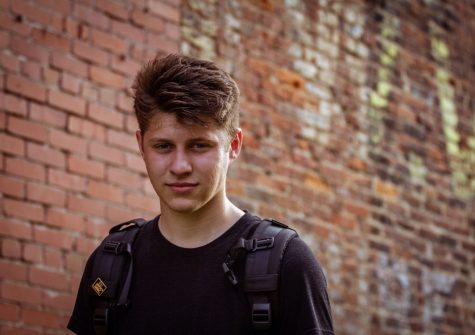 Grant Smith, Editor-In-Chief
When I have an idea, I write it down and share it with you