Nina Peacock reflects upon her life through hardship, prosperity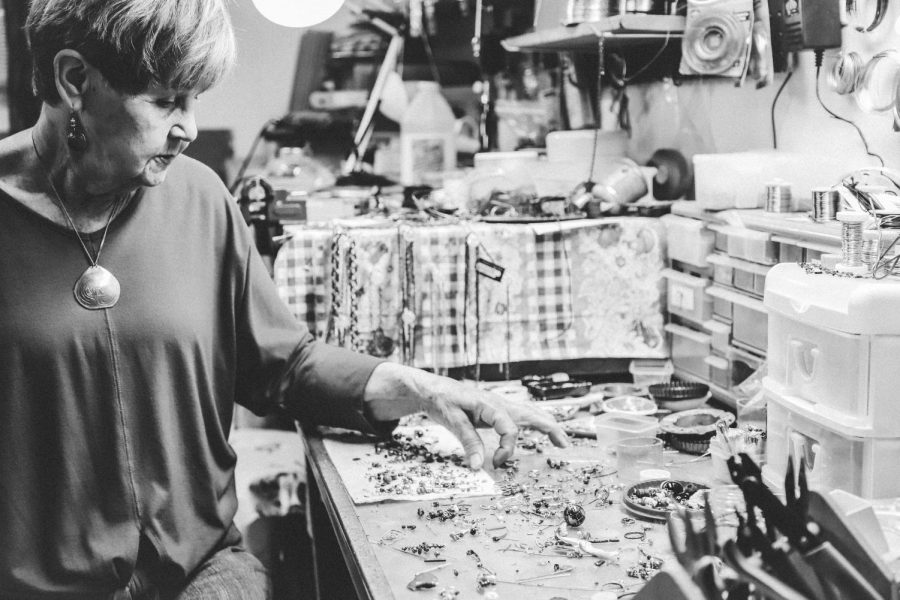 Sometimes on late nights, when the creative mind remains awake, Nina Peacock finds herself down in her studio, which used to be a garage. The distinct smell of copper and brass fill the air as Nina hammers and files the pieces of metal into place. As Sirius XM's "60s on 6" is turned on, Bob Seger's lyrics present company in the brightly lit studio. Sipping on a cup of hot coffee, Nina's mind is awake, and she is happy in her element that she has created.
Long before this peaceful moment in time, Nina Peacock (pronounced 'nine-uh,' not 'neen-ah') was born toward the end of the Great Depression in 1941 at the City Hospital in Saint Louis, Missouri to a poor family. She was the fourth child of seven who grew up in the city before moving to Mount Vernon, Illinois. After the death of her oldest brother, the family moved back to Saint Louis for a short period of time.
"We kids were well fed, not abused, happy enough, and wherever we lived, [we] had freedom to play outside when old enough, and were always allowed to have friends. My dad was a drinker and cusser and I was afraid of his loud voice," Peacock recalled of her childhood experiences. "It wasn't a perfect life with a large family living in a small space, but it was normal for us."
Early on in Nina's life, she quickly realized she had interests. Among those were reading, art, and music. Young Nina did not realize that it would be these interests, among others, that would shape who she is as a person later in life.
"During [my childhood] my mom noticed me drawing a lot, so she gave my a large scrapbook tablet of paper. There were always coloring books to practice art skills. Also, I learned to embroider, crochet, and even sew doll clothes by hand while young. All of us read the Sunday newspaper 'funnies,' as we called those pages and loved comic books," Peacock said. "I advanced to Nancy Drew and the Hardy Boys mystery books, true Romance magazines, Readers Digest books and magazines and novels of all kinds," Peacock added.
"Like the escape into books, listening to music on the radio was always part of family time. Dad liked to listen to the Grand 'Ole Opry, so I heard Hank Williams, Ernest Tubb, Red Foley, Webb Pearce, Kitty Wells, Minnie Pearl, and all of those."
Nina's family always went to church on Sunday. As she remembers back now, it seems that religion was always a part of her life.
"It seems like I always went to church on Sunday. My paternal grandfather, Grandpa George, took us to a 'store front' Pentecostal church in Saint Louis. He spoke of the devil a lot – I was scared of him. One Sunday, the preacher and other adults had me on my knees saying 'Jesus' repeatedly 'til it couldn't be understood, and I was crying," Peacock remembers. "They said I was saved. A week or so later, I was taken to the Mississippi River to be baptized."
After Nina's family moved back to Mount Vernon, she began to attend a Baptist church.
"I felt like the girls in the Sunday school class didn't like me," she said. "I didn't know why. So even though I continued to attend, I felt alone and [I felt] that something was wrong with me," Nina added.
Years later, after Nina married and had had several children, the "friend" that wanted Nina to come with her to church came to her and admitted that she told the other girls in Sunday school lies about Nina to get them to not like her. So far, Nina did not feel as though the church was as loving as it was said to be.
After Nina was married for the second time, before joining a local Baptist church, several deacons brought over papers for she and her husband to sign.
"I read them and remember thinking that I didn't fully believe everything," Peacock stated. "Not long after that I was asked to help by an activity teacher with second graders. It was fun to be able to make crafts, puppets, and have the kids act out little Bible story plays. Still, in the back of my mind, I always wondered if I was really 'saved.'"
In Nina's first marriage, she gave birth to two daughters. Her first husband drank and was very abusive to her. After nine years, she was divorced and moved back to Saint Louis with her two children. They moved in with Nina's mother.
In August of 1970 Nina married her second husband – her high school sweetheart and had a son — Donnie. She and her husband opened a small business – Peacock Printing – in Mount Vernon, IL. For 12 years, Nina worked at Peacock Printing with her husband, Don.
In her mid-forties, Nina decided it was time for a change.
"I spent a couple years at getting my body in shape with walking, free weight-lifting, eating right and stopping the coffee drinking," Nina said.
"In 1985, after taking some classes on reincarnation, I learned to meditate and practiced regularly, which changed me and my life," Peacock stated. "I had a desire to find my real self, which I learned was inside, not out there somewhere. I had my first and only 'real' spiritual experience while reading a book. The words seemed to be speaking to me. Part of what I heard was that I was okay, and loved as I am. It could have been just the timing and that I was ready. Who knows?"
Nina continued her spiritual realizations and became interested in other aspects of spirituality.
"I discovered Tarot and many other tools and paths all leading to the heart. Then and for years afterward, I only read non-fiction books. [I was interested in] mythology, psychology, world's religions self help, and many other teachers like Deepak Chopra about love and human and universal connectedness," Nina said.
"My spiritual life now … [it feels like] it is kind of failing," Peacock stated. "I am disappointed in myself … [I feel like] I'm 'sliding.'"
Although Nina's spiritual life is not what she believes it should or could be, she remains optimistic.
"I am trying to be lenient with myself because what I learned through all those years is what life is is a spiral, and it is one that goes up. It does [sometimes] go down a little bit, and I'm on a downhill [right now.] But, I am working my way up again," said Nina.
Prayer for Nina consists of counting her blessings and making clear in her mind what she is thankful for.
"I think: How many people love me? I try to be positive," Peacock said. "I've learned a lot about myself, and I need that downtime to realize that a lot of times I [try to make] myself perfect. What you have to do is see and face your other side; your dark side. Everybody has it – no one is perfect. You have to look at yourself every now and then and deal with it."
In Nina's back yard, a labyrinth can be easily spotted. The labyrinth was handmade by Nina in 2003. It is made completely of bricks that were harvested from a demolished house on Broadway in Mount Vernon. At its widest point, it is 49 feet wide.
"I know I read about labyrinths and it was after I had started meditating which was in '85, but they didn't start having them available until the late '90s. What I mean is, [labyrinths] were ancient, and [since then] almost everyone has heard of them, but before that they had not. And there are still some people [who do not know what a labyrinth is]," said Peacock.
"There is no one correct way to walk a labyrinth; you can do it however you want. I sometimes count by 4s and count my steps as I walk and you try to get your mind off of things and have a purpose to go," said Nina.
In addition to the Labyrinth, Nina has turned her back yard into somewhat of a zen garden. After a relaxing walk in and out of the labyrinth, visitors have the option of going over to the koi pond to relax and ponder.
"The koi pond is part of it, too," stated Peacock. "I like the way mine is set up where you come in from the East, and the West, in different [philosophies] is the 'water area' and that is where the pond is. And when the fountain is going, you can only hear it from the west side."
At the end of a day, when she returns to her studio and Sirius XM fills the quite garage, Nina is happy and content. Nina's life has been shaped by her struggles, situations, and realizations. Knowing all of this, she is at peace in her place.
About the Contributor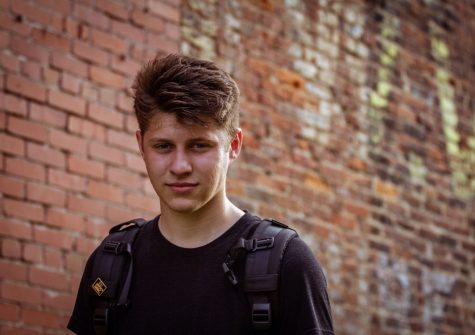 Grant Smith, Editor-In-Chief
When I have an idea, I write it down and share it with you