Eric Church defines current Outlaw Country scene with "Mr. Misunderstood"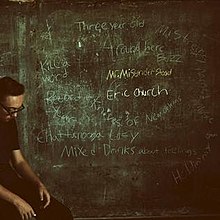 Eric Church is referred to by many as the king of the current day "Bad Boy Outlaw" country. This is high praise given the names that have belonged to this brand of country in the past, the likes of Willie Nelson, Waylon Jennings, Hank Williams Jr., and Johnny Cash, to name a few. Outlaw Country is one of the most legendary sub-genres of country music as well as one of the most recognizable sounds with its stripped-down, raw emotion. Despite the high pedigree, Church fits into this category perfectly, one of the only in country music that does. Church burst onto the scene in 2006 with the album Sinners Like Me, an album that produced three top 20 singles. All six of Church's albums have been successful and are downright good, but there is one crowning jewel that just cannot be ignored. That album is Mr. Misunderstood. One of my personal favorite albums, it is a complex arrangement of songs that feature more ups and downs than a roller coaster. Mr. Misunderstood really is an outstanding piece of work in Church's repertoire, all written or co-written by him. 
A wide variety of influences have influenced Church, ranging from Waylon Jennings and Merle Haggard to Metallica and AC/DC. His songs also reflect influence from blues artists through his riffs and lyricism. This assortment is demonstrated in the complexity of Mr. Misunderstood. The album opens with the title track, a song that directly displays the varying moods and tempos of the album. The track begins with what appears to be a slow acoustic ballad, with the lyrics opening with, "Hey there, weird kid in your high-top shoes…" The title track then bursts into a raucous third verse that demonstrates Church's heavy rock influences, only to be wound down back into the acoustic style last verse repeating the first verse. In this song, Church is speaking to a younger individual explaining showing that there is some hope and how he was just the same as they were- an actual "Mr. Misunderstood."
"Mr. Misunderstood" is then followed by "Mistress Named Music," a deep ballad that further shows Church's range of influences. This song presents a complex story about the connection music can have on a person, even at a young age. As shown in the first verse, Church writes, "Just five years old, my church shoes a dangling." The instrumentation on this track is impeccable, easing in with basic piano and simple drum beats but then exploding later into an instrumental bridge with hints of other classic songs hidden away in it. An Eagles-type acoustic riff can be heard right before the electric guitar explodes into a Led Zeppelin-esque portion. This is simply Eric Church showing us his depth of music knowledge and also showing growth of the character's taste in music. The instrumentation of "A Mistress Named Music" is deeply intertwined with the lyrics and the mood. One of my favorites on this album, it develops nicely and presents a theme with which Church seems to identify closely. 
Further on into the album (opening up Side B if you are listening on vinyl as I am) resides a song called "Round Here Buzz." Another deep song, this leans more toward being a drinking song. The song presents a male narrator who is stuck in his hometown as his ex goes off to chase her dreams. It features excellent instrumentation and, as with all songs written by Church, superbly deep and complex lyrics. A few other songs that show Eric's songwriting prowess include "Kill a Word," which demonstrates Church's adeptness with a pen through his use of word play – such as in the final verse, "'Cause you can't unhear, you can't unsay/ But if it were up to me to change/ I'd turn lies and hate to love and truth." In "Knives of New Orleans," a cutting song that has lines that are bound to stick with you, puts down solid lyrics such as "I did what did/ I have no regrets/ When you cross the line/ You get what you get," and "Tonight a bleeding memory is tomorrow's guilty vein." Then, in "Record Year," the radio hit on the album alongside "Mr. Misunderstood" and "Round Here Buzz," all continue the word play strewn throughout each song like clothes on the floor of a teenager's bedroom.  The album closes out with a final track, "Three Year Old," a touching song with minimal instrumentation that provides a perfect backing to the eloquent lyrics presented by Church. It's not one of his more popular songs, but it is one of my personal favorites on the album. It is likely to tug on the listener's heart strings, as are many of the songs on the album.
Mr. Misunderstood was released as a surprise album in 2015, first to members of Church's fan club then a few days later on streaming services. This is to say, there was no build up, no big promotion – nothing. This serves to show Church's confidence in his songwriting and the project in general. He believed that the album itself had enough power, in the lyricism and instrumentation, to deeply connect with his audience. And that it did. It has the power to make the listeners see themselves in at least one song if not multiple tracks. I feel comfortable saying that Church is the best songwriter in country music at the moment, and this album shows that. Mr. Misunderstood truly is the crown jewel of Church's discography.