Spirit days take center stage during Homecoming Week 2021
Excitement remains in the air as almost everyone participated in spirit days, looked forward to the football game, and planned for the dance.
There can be no doubt Homecoming Week was here at MV.
This year the Homecoming theme was, "Out of This World," centered around outer space concepts.
Spirit week at MV included new and different themes every day, to get students excited and ready for a great Homecoming weekend.
"Dressing up for spirit days makes my week more fun," said Addi Tinsley, '25
Some students like to dress up i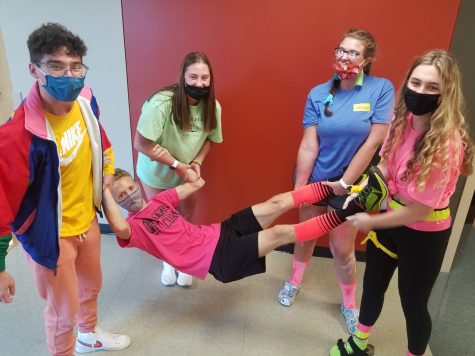 n groups and coordinate outfits with their friends to make it more exciting.
Spirit week at MV gets kids involved and makes them feel more connected to everyone and their school.
This year spirit day themes included, "Homecoming T-Shirt" on Monday, "Galactic Glow" on Tuesday, "Aliens (Underclassmen) Vs. Space Cowboys (Upperclassmen)" on Wednesday, "Star Wars" on Thursday, and "Planet Ram" (Ram Pride) on Friday.
"I like to be a part of the pictures, and it's fun to match with my friends and boyfriend. I also get extra credit in my classes," said Tinsley Andrews, '25
Some teachers also participated in spirit week and encouraged students by giving extra credit.
"I think spirit week is fun for the teachers as well when they participate, I participated yesterday for neon day," stated Ms. Jessica Pilson, social studies.
However, not all MV teachers offer extra credit for dressing up during spirit week.
"Extra credit can only help you, It cannot hurt you. It does not affect your grade negatively, it only boosts your grade in a positive way which could be unfair for some students," said Mr. Pierce Borah, social studies.
Student Council began the process of Homecoming planning at their summer workshop on August 11.  A lot of planning from that workshop to last week had to happen before the Fall Fest parade, football game, pep rally, and dance.
"In practice instead of going over our normal plays, we went over more spectacular or showy plays," said DaShaun King, '22
"In prep for the football game coronation, we had to practice after school; it was basically a walk-through," said Zana Das, '22
During the Homecoming football game half-time, the king and queen of Homecoming were announced.
"I was so excited, thankful, and honored that the student body voted me as homecoming Queen," stated Das.
MV is hoping that Homecoming 2022 will be back to normal and people are excited to find out the theme.
Homecoming spirit days and events this year were very eventful at MV. Many are already looking forward to Homecoming 2022.