A Ram reflects on his legacy
The old saying goes, "All good things come to an end." It's a hard reality to realize, but at some point everything will come to a conclusion. Personally, this is a reality that is currently hitting me. Football Senior Night on October 1st was a hard wake-up call that my time playing football in high school was almost up. As I reflected on my life, I realized that for twelve out of the eighteen years of my life, I've played football, and I realized how much it has defined me. However, what I thought most about was the future. I started thinking about fifteen or twenty years down the road when I will have children who could be playing football. I began to think about what I would be able to tell them about when I played football at MV. It soon became a question of, when I show my kids videos of my games, what will they see and what kind of a father will they look up to? It became a question of legacy. 
Before I played the last home game at Mount Vernon, I reflected back to being a young 5th grader playing my first year of tackle football. I vividly remember going to the high school football games on Friday nights under the lights of Shields Stadium, dressed in my football jersey so I could get into the games for free, and also show off a little. I remember watching the football team walk out of the locker room onto the field. I remember watching the game with such a feeling of excitement. It was exciting to think that one day, I was going to get to be like those guys. One day I was going to get to play in front of the big and loud crowd. All of those aspects were a part of how I perceived high school football and how I perceived high school athletes. I don't remember the outcome of the games, or who scored the touchdowns. I remember seeing players go all out and give their best effort every Friday night. That's the legacy that those high school players had on a kid that they had never met and didn't even realize was looking up to them. 
In what seems like a blink of an eye, I somehow grew from the 5th grader who wanted to play varsity football when he grew up to being a senior, walking out to meet my parents on the 50 yard line before my last home game at MV. As I looked up into the crowd, I couldn't believe that I was the one being watched by the 5th graders. It made me reflect on my legacy. 
A person's legacy is what they are most remembered for. The way they were perceived by others determines how they will be remembered. People will always talk about the nicest person they know, or even the most competitive. That's how someone is perceived by other people and how they build their legacy. It isn't built on a single moment in time, nor a single event in a person's life. It instead is built from the beginning to the end of an individual's life. In sports a legacy is built from the very first moments of picking up a ball. As for life in general, a person's legacy starts at birth. Everything a person says or does shapes their legacy. The little actions will affect it, just as much as the big actions. Things such as always hustling on and off the field or court, being a positive teammate, or even giving a young fan a quick hi-five can affec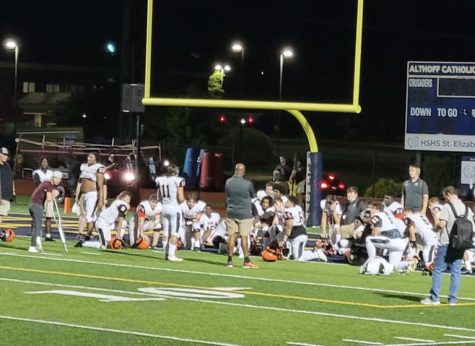 t a legacy.
Thinking back, one of the most influential people in my high school football career has one of the greatest legacies of anyone I have ever known. Eli Badger was one of the most hard working people I ever met. He pushed himself and others to become better every single day. There were times when he would get a little hot headed but it was only in the spirit of competition. Eli was never scared of anyone or anything and always played until the whistle blew. Not only was he a great person to watch and try to mimic, he was a great mentor for me. Eli and I played the same positions so we were always doing drills together and he would always give me pointers on how to improve. He also mentored myself and four other freshmen who were willing to try and pole vault for the track team. All of those things are how I remember Eli. All of those traits make up his legacy.
The wins and losses will rarely be remembered twenty years from now, but the way a person carried themselves will be. I hope that I have left a legacy that my children can look up to as they are growing up. I also hope that with the last few games of a season that hasn't gone how anyone had hoped it would, a change in culture can be established.