Eric Church delivers in powerful appearance in Evansville
CMA 2020 Entertainer of the Year impresses large crowd in Ford Center
The crowd has grown restless in the Ford Center in Evansville; they'd been waiting for over 45 minutes. Finally, there was some buzz off to my right; as the lights go out, the radio country that had been playing is replaced by "Lunatic Fringe" by Red Rider. Then out comes the band to an ecstatic greeting from the crowd of 10,000, followed by the Chief, Eric Church. This is how the greatest concert I've attended began, and there is so much more.
Church and band immediately burst into the first song, "Through My Ray Bans," a relatively soft selection to open up such an energized show but powerful nonetheless. During this song Church is located at at center stage off to my left.  Given that the venue is set up in a circle, he moves to four microphones set up on the four corners of the stage, one of which, the one located in the "Soul" pit, is located right in front of me, so as Eric begins to move around the stage I know he will eventually be in front of me. Then finally during the third song, "Stick That in Your Country Song," a raucous song aimed at mainstream country music,  it happens. Church begins to make his way over to the "Soul" pit, named to match the "Heart" pit given the titles of his newest albums, and at that moment, I am five feet away from Church, one of the biggest artists currently in country music.
The next song was "Drink in my Hand," a bar song that was met with considerable energy from the predominantly middle-aged crowd, followed by "Bunch of Nothing," a more bluegrass-based song from one of Church's newest albums Heart. Then came two heavy hitters in terms of fan reception, "Record Year," one of Church's more recognizable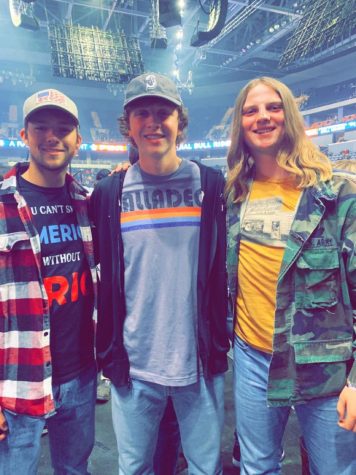 songs off of his 2015 surprise album, Mr. Misunderstood, and "Smoke a Little Smoke," which an overwhelming majority of my fellow pit dwellers cited as their favorite song of Eric's, and the crowd response reflected that and Church's energy matched that of the crowd. It was during this song that he flung the bourbon that was in his cup into the crowd, and some of it splashed on me …that puts into perspective how close I was to the 2020 Country Music Association Entertainer of the Year. Next, he delivered "Round Here Buzz," and "Creepin'," the latter of which created a cool moment when it went into the chorus when "Creepin" is echoed, Eric let the crowd take the echo and they did so with ample enthusiasm.
Eric Church burst onto the scene in 2006, and over the years, he has built an exceptionally large discography.  This is shown by the sheer number of songs he performs. Lacking the traditional opening acts, Church just goes out and puts on a show for three hours, ending with the same energy he opened with. He performed twenty-eight songs in Evansville that night, a majority of which were off of Mr. Misunderstood, my personal favorite of his albums, such as the title track, "Mr. Misunderstood," and "Chattanooga Lucy," which came six songs after "Creepin." Those tracks include "Hell of a View," the hit single out of his new albums, "Cold One," one of his older songs that is a comedic song about a girl breaking up with the narrator, and how she did it was "a cold one," "Rock and Roll Found Found Me," another one of his newer song that has become a bit of an anthem for Church's fans, and "How 'Bout You," an older song that's performance consisted of cheering competition led by Church between the four corners of the venue reminiscent of a high school spirit stick competition.
After those songs came "These Boots," in all of its boot-raising glory which delivered a beautiful moment when a young girl on her father's shoulders handed her very small pink boot to Eric Church for him to sign.  Church signed it, much to the enjoyment of the crowd.  He then followed up with "Drowning Man," off of his often forgotten album Desperate Man, a very emotional song consisting of the tag line, "Bartender, here's a fifty, pour some whiskey on this drowning man." Then came the aforementioned tracks off of Mr. Misunderstood, "Mr. Misunderstood," and "Chattanooga Lucy." Following those selections is perhaps the greatest and most powerful moment of the concert. During the song "Like Jesus Does," Eric delivered the first verse as is expected, and then as the chorus is finishing up and the second verse begins, Church's vocal counterpart Joanna Cotten, who had been singing backup all night, picked up the lead vocals, creating one of the greatest duets I've ever heard. Cotten's powerhouse voice sucked the air right out of the room, and the crowd went silent until they erupted into a deafening roar. Cotten's voice is truly beautiful and, to my knowledge, this tour is the first time she and Church have performed "Like Jesus Does" as a duet but it will certainly not be the last. It is very hard to follow up such a performance and, in my opinion, Church didn't even try, instead presenting two "filler" songs, "Desperate Man," a radio song off of the album of the same name, and "Jenny," a song that I find hard to identify with due to its rather bland feel.  These songs were two of the very few low points of the concert. Eric then kicked it back into high gear with two absolute bangers in the form of "That's Damn Rock and Roll," an angry song that, just like "Stick That in Your Country Song," is aimed at mainstream country music, and another highlight of a night full of them, "Talladega," during which a Dale Earnhardt flag with a big black and red 3 on it was passed up to Church on the stage which he proudly raised.
Next came "Higher Wire," a song that Eric prefaced by calling it the hardest song they do and then produced a beautiful rendition of it, followed by an angry version of "Give Me Back My Hometown," that entailed considerable singing from the audience even with Church giving the crowd the mic for a part of the chorus. Then came "Pledge Allegiance to the Hag," a powerful and energetic party song about the strength of the late country legend Merle Haggard and his music. Church followed that with one of the most heartfelt performances of the night, "Springsteen," during which he came into the crowd to shake hands and sign autographs all while still singing, following that he delivered two more songs, "Crazyland" and "Holdin' My Own," the latter of which is off of Mr. Misunderstood and is a beautiful song full of emotion. That ended the concert, which led to my only major letdown of the concert – it just ended abruptly. Unlike his prior shows in which Church delivered an encore, this show lacked one, which left some other fans a bit disappointed. I, on the other hand, was not disappointed, as it was a stellar performance.  I was just confused as to why there was not an encore.
The fifteenth concert of Eric Church's Gather Again tour in Evansville, Indiana was nothing but a success. It is certainly the greatest concert I've ever attended or probably will attend for a long time, bar any unforeseen circumstances like Pearl Jam coming to St. Louis. I went with two very close friends and I can say without a doubt it was one of the best nights of my life. The energy Church, Cotten, and the band delivered is incredible as well as the way that Eric makes every song feel personal as if he is singing it for every individual person there. Eric Church is one of the best artists of our time, and that night will certainly be one that I will never forget.