Sacred history returns to Building A
World War II memorial plaque rededicated in Student Council ceremony on November 10
History is part of everyone's experience – especially veterans of war.  Whether one is an American citizen or a tourist from another country, war history is a shared experience as well.
MV Student Council conducted a special ceremony on November 10 to honor that war past, as well as pay respect to staff veterans, past and present.
The ceremony, conducted in Building A lobby, included a short program that included the plaque's history to the high school, the National Anthem performed by Nurse Tara Heinzmann, and a salute to MV veterans.
Honored guest Nancy Germann, a 1953 MV graduate and Distringushed Alumni, said "It's important to remember the veterans, becuase without them, we would not be where we are now, speaking English and enjoying the country as it is."
MV Student resource Officer Steve Barton, who is a National Guard member, stated "We should always remember history, and [the plaque] being a big part of MV history, I think it's great to honor … those who are gone."
MV Superintendent Mrs. Melanie Andrews said "I think it's great any time we have an opportunity to bring something from 
the old campus to the new."
Mrs. Andrews added "I think that helps connect the past to the present, and the fact we were able to do that with this plaque that pays honor to all the graduates that made the ultimate sacrifice during World War II and a day before Veteran's Day makes it even more special to display that once again."
MV School Nurse Tara Heinzmann, who sang the National Anthem at the ceremony, said "It's great we get to honor our veterans, school, and community with the plaque."
The World War II plaque was a project originally initiated by Student Council in 1945-46.
The plaque remained a fixture on the wall of the Building A main hallway for 70 years, and it honors all of the MVTHS graduates who lost their lives in defense of the U.S. in World War II.
In 2016, the plaque was placed in storage due to the move to the new campus. Then in 2020, the plaque was located, cleaned, and prepared for re-installation at the new MVTHS campus.
According to Student Council co-adviser Dr. Jamey VanZandt, "We are honored to now display this piece of Ram history in our new building for decades to come."
The bronze plaque is now located at the quad entrance to Building A lobby at he new campus.
Student Council also honored MV staff members who are also veterans.  Veterans include: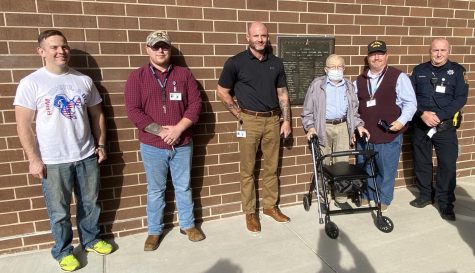 Mr. Mark Goodheart, U.S. Army, 1985-1988 – Ft. Kobbe, Panama
Mr. Caleb Carter, U.S. Army, 2015-Present – Kuwait and Afghanistan, Two Tours Each
Mr. Ryan McGuire, U.S. Air Force, 1998-2001 – Combat Veteran, Delaware, Afghanistan,  Germany
Ms. Nita Posey, U.S. Army, 1989-1992 – Desert Storm Veteran, Iraq, Germany, and Japan
Mr. Dylan Moore, U.S. National Guard, 2016-Present – Qatar and Iraq
Mr. Butch Wilson, U.S. Navy, 1983-1991 – U.S.S. Semmes, Mediterranean, Persian Gulf, and Caribbean
Mr. Scott Shaw, U.S. Navy- Desert Storm
Officer Steve Barton – U.S. Army National Guard
Mr. Bill England, U.S. Army Infantry- 1972-1975
The ceremony was also attended by MV Board of Education members Mrs. Kathy Asbery and Mr. David Kassner, and special guest and MV Class of 1944 alum Mr. John Howard.