Youth sports: Time for a change?
Are youth sports causing more harm than good?
Youth sports have been around for over a hundred years, but is it time for a change? This is a question that is currently being debated because of how competitive youth sports have become. There are many people who argue that sports are vital to children because of the life lessons they teach young children and the health benefits they provide. Others argue that youth sports have become emotionally damaging because of the stress put onto kids and the competitiveness of the parents. Regardless, the fact remains that youth sports have been played since 1903 and have shown to have significant benefits for children. The question to consider remains… do the benefits outweigh the emotional toll that comes with Youth Sports?
Sports are fun and provide kids a chance to learn social skills. In an Washington Post article, Roman Stubbs states, "About two-thirds, 65 percent, say their children's happiness was negatively affected [by the shutdown of sports due to the pandemic], and another 60 percent say the disruptions served as a blow to their kids' emotional well-being because they were no longer able to compete or socialize with their peers." Children need the social interaction that comes along with playing sports. Sports build social skills that are valuable later in life in a way that is fun for kids. Children enjoy going to play with their friends and part of their emotional well being is because of the interaction with their friends they receive. Children have a need for social interaction and sports will fulfill that need for many children.
Playing sports as a child can have health benefits all the way into adulthood. Studies have shown that people who played sports as kids were considerably more fit, as compared to adults who didn't participate in sports. This shows that not only do sports have short term health benefits by keeping children active and healthy while they are young, but it can also keep them physically active as adults. The children that play sports learn healthy habits and tend to keep those habits late into life. Youth sports can have great short and long term health benefits by instilling good health habits.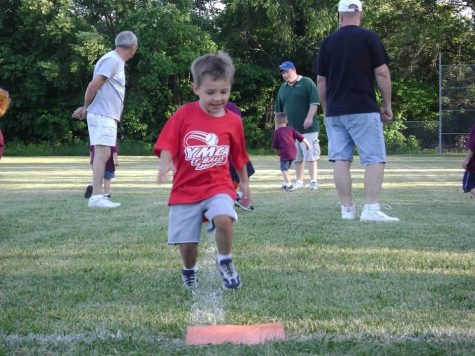 Youth sports can become too competitive and cause kids to be stressed. Sports today are more competitive than ever which can take the fun out of the game for some kids. Along with the extra competitiveness that has been brought into youth sports, social media has allowed for every child and every parent to have a chance to be in the spotlight. This has caused many kids to push themselves extremely hard to play like the star players they see on their phones. Social media has also caused travel teams to become popular because these teams can now watch and contact players from anywhere as opposed to when the local youth league was the only place to see those kids playing sports. As with everything youth sports have changed over time and they are now more competitive than ever before. The days of playing for fun are being left behind for the idea that making it to the next level is the goal. 
Parents can also cause problems by taking youth sports too seriously. In an article about youth sports, Rob Oller describes a scenario where a parent and a coach get into an altercation because of youth sports. He states, "A flag football coach sucker punches a parent. Kids are crying. Cellphones are recording. Lots of cursing." He adds that this description, "doesn't include the dozens of videos in which parents insult and assault referees, umpires and game officials." The way that parents act in these scenarios can be seen as unnecessary and unacceptable. Youth sports are designed for kids to learn, and when parents step in, things can become out of control. Parents are far often more worried about the score of a game than the kids playing. The competitiveness of parents can turn a fun kids game into an altercation between adults. This has also created a problem with finding people to umpire or officiate games. The number of officials continue to drop because of incidents where they get harassed by angry parents. 
Youth sports can have both positive and negative effects on children. The life lessons and fun that come with youth sports are beneficial to children. It can also be seen that for some kids, sports do damage to them mentally to the point that they no longer have fun playing. Every child is different when it comes to what they enjoy which means that there is no right or wrong side of this argument and each parent should make a decision that benefits their child the most.