FIRST Robotics: An Experience of a Lifetime
I like to see myself as an immensely passionate person. To that end, I always go through the effort of choosing and embracing my many passions in life. One of those passions for the last seven years has been through First, a nonprofit organization whose whole goal is to inspire young lives with robotics and applications of STEM (Science, Technology, Engineering, and Mathematics) outside of the classroom. I was introduced to First through a mentor named Robert Cooper who introduced me to FLL, otherwise known as First Lego League. 
FLL combines a competition built upon designing Lego robots for a challenge and presenting oneself in a gracious and professional way. I instantly fell in love. From there, I continued to be involved with FLL; later I led the 4H King Clover team in Mount Vernon and mentored the St. Mary TechKnights team. FLL had excited my young middle school life, but it wasn't until high school that I found myself engulfed by the new and more exciting FRC, aka First Robotics Competition. 
 First had changed my life at that point with the immense opportunities and challenges that FRC threw at me. I think the first thing I learned was the value of cooperation that FRC requires. Through FRC, I believe First effectively teaches high school students how to work within a team structure and prepares students for a future where they are bound to have to cooperate with others. I picked this up quickly and embraced the concept of a team tackling a problem and collectively discovering a solution. The mentors on RoboRams help us work together…it is truly an amazing moment when we get to see all of the accomplishments a team can produce.
How does competition work exactly? Each year, they present teams with a new challenge designed to require some sort of innovative solution produced by each team. RoboRams members watch this presentation and immediately build season kicks off. We get to work on brainstorming while asking ourselves the question, "How are we going to win?". It teaches us students the design process in how modern-day companies come up with solutions to problems. When we tackle these problems as a team, the results are truly incredible.
In the robot building process, I serve in multiple departments on the team. At the start of build season I am one of the team's design leads. This position paints me as a leader on a single design aspect of our robot and I get to coordinate a team into the brainstorming, prototyping, and 3D CAD of that object. After our team is done with designing the robot our fabricators get to work on building and I get moved over to the programming and electronics team to start work on the wiring and hardware in the robot. On our team, I see myself as someone who has become a crucial member to our team's success and that is all due to the teaching of our mentors and the experience I've had so far with my 3rd year in FRC.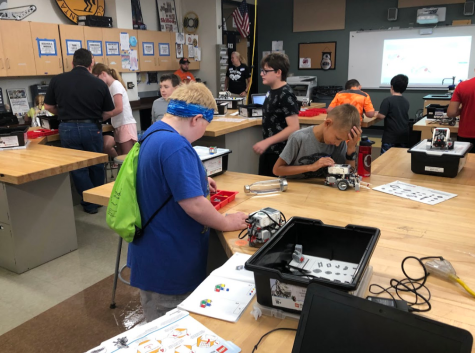 On the RoboRams team we also have an officer system made up of five students leading up different departments of our team. My officer position on the team is the Education and Outreach Officer, and I value this role immensely. With this position, I get the privilege to head up outreach trips to grade schools and middle schools, and I get to talk to youth interested in engineering and robotics. We also teach them using FLL materials, in which I have a lot of experience. The opportunity to inspire young lives the way I was inspired is truly fulfilling. I love how our team can be a part of something so influential in our community.
In this way, First has also discovered a passion of mine, which is leading others. This doesn't mean I love the power of being in a higher position than others; rather, I simply love seeing myself and others as a team succeed. Being able to utilize team members' skills to their fullest potential and making accomplishments that wouldn't be possible without the collaboration is really fun and exciting for me. I hope to continue this into my future career.
Because of all the experiences I've had over the past few years, I hope to be accepted into the University of Illinois' Grainger College of Engineering and continue my passion of leading others through engineering. These inspirations at a young age could not be possible without the impact of First Robotics.