2022 Prom King and Queen Announced
New royalty crowned at Prom 2022: A City of Lights
On Saturday, April 2, many MV upperclassmen saw the light…the City of Lights at Prom 2022, sponsored by the junior class.
Mrs. Holly Davis, Communication Arts, and Mrs. Amanda Huge, Special Education, served as prom coordinators.   
The King and Queen were crowned during coronation prior to the dance at 6:30.  Coronation was held in Schweinfurth Theater.  
Queen candidates included Caitlyn Bernard, Kadence Chamness, Sydney LaLumondier, Justice Malone, Kali McIntosh, Leigha Moore, and Callie Prost.
King candidates were Jacob Morrison, Ethan Rivera, Anthony Lash, Clifton Gammons, Colin Tisdale, Wyatt Pilson, and Colin McClure.
The reigning queen, Zana Das, and king, Trevor Barciszewski, crowned the new royalty with the help of jr. princess, Evie Edwards, and jr. prince, Silas Littlefair.
The crowned royalty for The Class of 2023 was Callie Prost, queen, and Clifton Gammons, king.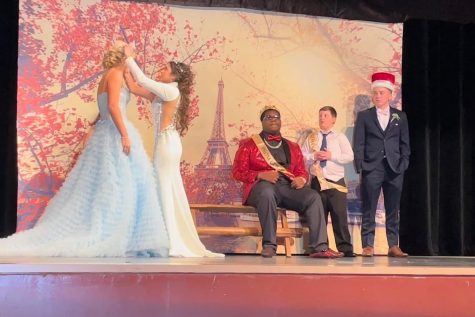 "Winning prom king was a great moment and feeling.  I would like to thank everyone that voted for me because it means a lot," stated Gammons.
"Winning was exciting and being able to walk out and do the fancy bow was enjoyable.  The dance itself was also very fun and I really enjoyed the food!" shared Prost.