Students Reflect on Homecoming Week
Homecoming is more than a dance, it is a whole week's worth of fun.
MV students experienced Homecoming Dance 2022: Sunset Boulevard, on October 8th in Chagnon Gymnasium.
Each day featured a spirit day for students to participate in, with Monday as Homecoming T-shirt Day, Tuesday as Stunt Double Day (Students twinned with one another), Wednesday as Movie Stars (underclassmen) vs. Pop Stars (upperclassmen), Thursday as Meme Day, and Friday as Ram Pride Day.  
"Ram Pride day was my favorite because I think more people go all out for it," shared Kaylie Ratcliff, '24.
"I enjoyed Meme Day, I was able to wear my medieval crusader outfit.  It feels good to have worn it all four years of high school in a row.  It is certainly a way for me to leave my mark on the school," stated Jackson Mills, '23.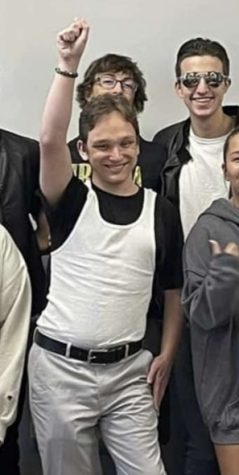 Students in Mrs. Prost's Calculus class were in for a special treat on Wednesday.  Senior Sam Buesking dressed as Freddy Mercury and performed Queen's hit single, "We Will Rock You," for the class.
"Sam's musical performance was such a magical experience for me," expressed Weston Riggan, '23. 
Not only did students get to participate in fun spirit days, but Student Council brought back the Powder Puff game.  For the first time in many years, girl students from MV got to take the football field in a class vs. class athletic competition.
"I really enjoyed the competitiveness and how much fun everybody had," stated Emmalee Kroeschen, '25.
Addie Holloway, '25, agreed. "I was laid back but super competitive at the same time.  Every team got really involved and made it a lot of fun," Holloway added.
In round one, Sophomores beat the Freshman.  In round two, Seniors were victorious over the Juniors.  In the championship game, the Sophomores came out with the win over Seniors.
Students and staff attended a Pep Rally on Friday before the early dismissal.  Students participated in games such as musical chairs and staff vs. student dodgeball. 
"My favorite part of the assembly was getting walked out as a member of the homecoming court," shared Kadence Chamness, '23.
As a part of the Pep Rally, the football team was blindfolded and told they were dancing with a MV cheerleader.  They were actually dancing with their mother or another family member.
"I loved it since my mother is my best friend," said Fischer Davis, '23.
Members of our Student Council worked very hard to make this week successful.
"We started this summer the long process of getting everything together," shared Student Body President Justice Malone, '23.
"I had the opportunity of MC'ing the pep rally.  It was such an enjoyable experience for me," shared Kaleigh Brumley, '24.
If you are interested in planning fun weeks and events like this in the future, consider joining Student Council. Advisors, Mrs. Melanie Andrews and Dr. VanZandt, or any current member of the Council would love to speak with you!