What Could've Been: 2022 Tennessee Volunteers
College Football's surprise falls short after a tremendous season
Coming into the 2022-23 College Football season, the Tennessee Volunteers were not even ranked inside the AP Top 25 Poll, falling just short of the cut to a BYU team who had 234 votes to the Vols 180. Sitting here at the start of December, Tennessee is #6 in the AP Top 25 and BYU is nowhere to be found as they have a 7-5 record.
Even though the Volunteers didn't end up in the controversial top four that ultimately decides the College Football Playoff, they had a very good season that was riddled with challenges that became too much for Tennessee to overcome. The largest out of all these challenges had to be starting Quarterback and Heisman Trophy contender Hendon Hooker suffering a torn ACL against the South Carolina Gamecocks in an eventual 63-38 loss. That loss was the one big mistake the Vols made all season and they paid the price for it, falling from #5 to #10 in the span of one game. A week later Tennessee defeated Vanderbilt 56-0 in backup Quarterback Joe Milton's first game since last season's matchup against Pittsburgh.
Let's take a look at some of the positives of this season since you don't just jump into the top ten of the AP Poll for no reason. The Volunteers started their season with three easy matchups to move their way up the poll and to also gain more of a reputation and legitness to their program. The three wins came against Ball State, Pittsburgh, and Akron, and with those wins, the Vols made their way to #15. Competition became harder after this as they went up against #20 Florida and #25 LSU, defeating both to move on to 5-0 and #6. 
Tennessee became known all over whenever they defeated Alabama in a 52-49 effort by the Tide. Orange and White checkered fans stormed the field going insane over upsetting the #3 Alabama and in the end both Neyland Stadium Field Goal posts were taken out of the stadium and thrown into the Tennessee River out of excitement and adrenaline. They remain there to this day and Google Maps is there to prove it. When searching for "Neyland Stadium goal post" will direct the GPS to the river directly across the street from t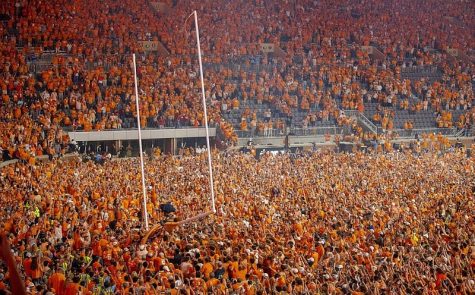 he stadium.
After this win, Tennessee was at the peak of its season going on to win its next two matchups by a margin of 38 or more. Saturday, November 5 was the start of a downward spiral that Tennessee wishes it could've avoided. Scoring just one touchdown in their effort against #3 ranked Georgia just wasn't enough as they were defeated by a convincing fourteen-point majority with a final score of 27-13, moving the Volunteers from #1 ranked to #5 in just one game. Georgia's defense kept Hendon Hooker and the Vols in check, allowing only a 195-yard showing by the signal caller on 33 attempts and 23 completions.
Following the Vols' first loss of the season, came Mizzou. Tennessee eventually came out of this game unscathed with a 66-24 final score, but that doesn't mean Mizzou didn't fight to stay in it. During the first quarter, the Tigers stayed neck and neck with Tennessee as they wrapped up the quarter with a 7-7 score. This momentum moved into the next quarter as Tennessee pulled ahead but only by a four-point margin. Coming out of halftime, the Volunteers stepped their game up, going on a 38-7 run to finish the game off, moving to 9-1 on the regular season.
Now we're back to what we discussed in the second paragraph of this story. "Just one game," seemed to be the story of this team and it is with any contending College Football program. Whether it's one game that is lost or one mistake that is made, not bouncing back is critical in this game due to the size of their playoffs. Now, with a new playoff setup incoming, the College Football Playoff will officially triple in size from its current four-team setup at the beginning of the 2024-25 season. The #1-4 teams that would originally duke it out against each other, will now receive a first-round bye, making it similar to the NFL's setup of both AFC and NFC #1 ranked teams receiving said bye. If this setup was in place during this season, the Volunteers wouldn't only be in the Playoffs, but they would be seen as one of the favorites due to their #6 ranking.