Senior Nights reflected truly special moments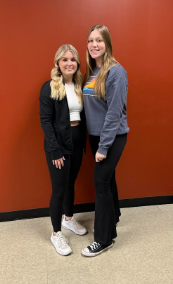 Seniors at MV are experiencing their respective night. Senior Athletes Alaina Maurer (girls basketball), and Reagan Schmidt (Rockin Rams dance) will explain more about their senior year sports.
Seniors at MV all have a favorite part of their senior night and what made it so meaningful to them. "Everything, the night was so fun, one of my favorite memories from senior night was opening gifts with my team. It was a very special moment," Schmidt stated.
"My f avorite part was the breakfast that coach Jami Williams made for us seniors and the rest of the team helped out also," Maurer mentioned.
Some things did not go as expected for senior night but they also did not really know what to expect considering it being their last home game.
"I did not really know what to expect, senior night is so different when you're the one getting recognized," Schmidt said.
"Senior night did not go as I expected because I thought we were going to win against Taylorville but we did not," Maurer added.
Being a senior comes with a lot of responsibilities and helps lead the team. These seniors had favorite moments during their senior year sports season. 
"Getting close with my team and always being there for one another like a family," Maurer stated.
"Placing second place at IDTA state competition was truly my favorite part of my senior year," Schmidt said.
Senior athletes at MV always wish for the best there senior year because it's their last year at MV, devastating times came among these senior athletes. "Losing six games this year was my least favorite part and it was very upsetting because we should have won," Maurer mentioned.
"Doing the pregame for the last time of the regular season was my least favorite during my senior year," Schmidt added.
These athletes would like to add several positive aspects.
"I am very grateful for my coaches and teammates and how loved I feel and I am so proud of all of us," Maurer said.
"Senior night was truly special for us seniors and everyone made us feel so special," Schmidt mentioned.