In the summer of 2018, fashion designer and entrepreneur Virgil Abloh debuted at Louis Vuitton. Abloh had no hesitation in putting his own spin on Louis Vuitton. The man who came to the fashion world's attention in 2012 as a Kanye West collaborator was sitting on top of the menswear division of one of the biggest luxury, fashion, and accessories companies in the world. A front row full of celebrities including Kanye West, Kim Kardashian, Rihanna, Bella Hadid, Naomi Campbell, and Rita Ora came out to see his debut. 
On the runway, Abloh assembled one of the most diverse model casts ever to grace a European runway. The rainbow-colored runway was breathtaking and remarkable, with the first seventeen looks to come out dressed in all white, and as the show continued the color focus changed.
What models were wearing consisted of see-thru bags, bountiful amounts of white linked chains, reworked bulletproof vests, and Wizard of Oz imagery. Abloh also had numerous garments that blurred the line between bag and garment, with a number of vests, holsters, and belts with cargo pockets attached.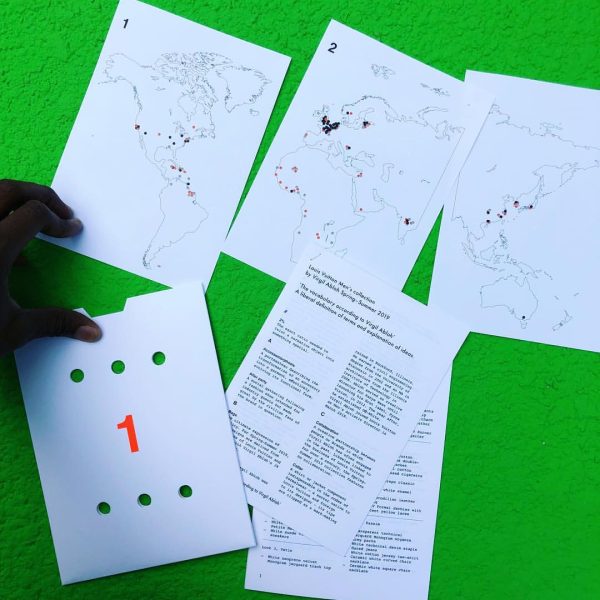 "The biggest goal for a first collection in any scenario is to start so that people can understand the new vocabulary," according to Abloh's Instagram, before the show.
The focus of his debut was inclusion. Show notes featured a world diagram showcasing every model's and model's parents' birthplace. Abloh invited 3,000 art students to his show, giving every single student in attendance a t-shirt on their seat, color coordinated to their section of the runway.
"Essential to my show concept is a global view on diversity linked to the travel DNA of the brand. The studio creates these show notes. We created this world diagram on the seats that shows models' birthplace, and the birthplace of their parents. Issue #1 is also located on each seat. My dictionary of terms included as well," Abloh described in an Instagram caption.
Virgil was committed to giving models their identities back, giving attendees the opportunity to identify who the models are and what they do by giving descriptions behind the person. No more anonymous bodies in the modeling industry.
Abloh's first collection seemed to be West-approved. A triumphant Abloh ran into the arms of a teary-eyed Kanye West, his old collaborator, as he made his closing walk down the runway.
Abloh was truly one of a kind and this debut only helps that statement. He and his creative mind were taken away on November 28, 2021, and the fashion world still hasn't recovered. 
"Virgil was driven by his dedication to his work and to his mission to open doors for others and create pathways for greater equality in art and design," the Instagram post, announcing his passing, read.