Students react to new cell phone policy
A student perspective on the ban
Hang on for a minute...we're trying to find some more stories you might like.
MV began 2018-2019 with several new changes and policies in place.     
The bell schedule changed from nine periods to eight, removed late starts on Tuesdays, and also, a cell phone ban.
The School Board voted to have cell phones, and any electronic devices not issued by the school, completely banned from 8:10 to 3:09.
According to the new policy, students are required to keep their phone off and stored in either their locker or car.
     If caught using it during school hours or even having a device in their possession, the teacher must take the student's device and send it to the Attendance Office, where the student can pick it up at the end of the day.
As students adjust to this new rule, many have spoken up about their issues and concerns regarding the ban.
     "I am personally against the cellphone ban due to the amount of apps I have on my phone that are for school use only," said Zoe Wellmaker, '20. "[In previous years,] teachers encouraged their students to use their phone as an aid, but a large amount of our student body abused this power for a multitude of wrong reasons."
         "Even after the teachers found this out, they did not step up their use of authority to find ways to hinder this. For example, if they caught a student on their phone they would just make them put it up instead of taking it or sending them to the office," said Wellmaker.
      "A large percentage of students, like myself, have social anxiety when it comes to school and being around people all day. I, personally, would listen to music in-between classes or while we worked on assignments. It kept me focused and away from distraction," said Wellmaker.
     "As soon as [the ban] was put in place, all the phones in the school went down, making it nearly impossible to immediately reach someone in case of an emergency," said Ashton McPherson, 19. "Most parents do not sit on their email waiting for a message from their son/daughter, especially while they are busy at work. A text or a phone call makes passing information much quicker and simpler."
However, some are in support of the ban and are getting used not to having their personal device on them at all times.
"Without the distraction of the cell-phone, I am able to stay focused in class and not be distracted," said Sahar Rashid, '20.
"The ban allows students to focus more on their work and less on what is happening on social media," said Derek Hill, '19, "I believe there could have been better ways to control phone use in the school."
Students have pointed out both positive and negative effects the ban has on the school.
"We stay focused during each class and can easily pay attention without being worried about our cellular devices," said Rashid.
Kenzie Hamlin, '21, said the ban makes it more difficult for students in sports to be informed of time changes and cancellations.
     "I have noticed that everyone is more social and makes a greater effort to have conversation," said Paige Julius, '21.
     However, Julius also said contacting her parents is difficult, and students can not take pictures and videos of fun times at school or notes and pages of her textbook so she can finish assignments at home.
McPherson said the ban allows students to concentrate and socialize, as well as detaching them from social media.
About the Contributors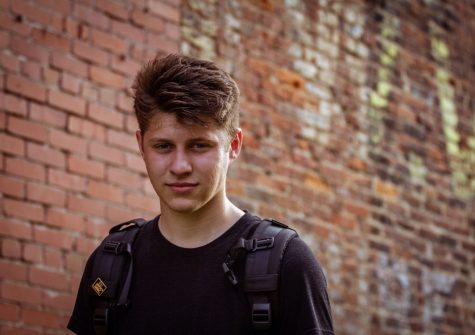 Grant Smith, Editor-In-Chief
When I have an idea, I write it down and share it with you