Rams Football Scores Big Win Over Centralia
Waves of Pink Take Over Ken Hunt Stadium
The bleachers of Hunt Stadium were filled with pink as the Rams picked up a second win of the season.
The Rams came out strong throughout all four quarters of the game, maintaining their lead against the Centralia Orphans.
Evan Leake,'21 opened the game with a 15 yard run.
Into the first quarter Kijah Banda,'19 caused a fumble resulting in a ball turnover.
Continuing with a strong defense, the team caused a block punt resulting in a field position advantage that allowed Isaiah Dameron,'19 to score a 10-yard touchdown.
Heading into the second quarter with a 6-0 lead, the Rams continued their defensive plays with an interception by Eli Badger. The interception was returned for a 63-yard touchdown from Evan Leake to Isaiah Damron.
MV continued with their strong defense through the second quarter with a fumble caused by Weston Riding,'21 that was scooped and returned 30 yards by Nick Malone,'19.
The rams finished off the first half with a 40-yard touchdown by Amir Spann, resulting in a half time score of 24 to 6.
The Orphans gained some momentum during the third quarter with a touchdown, raising the score to 24 to 14.
However, the Rams continued ahead with another touchdown by Eli Badger during the last quarter.
MV defeated Centralia with a final score of 30 to 14.
The players' performance resulted in an improved game outcome compared to other games this season.
"We executed a lot better and simplified things. Defensively we caused a lot of chaos which was the plan ­- so it worked out," said Coach Jarod Kessler.
"I feel like we really came out strong the first half of the game and we've not really done that in the previous games," said Eli Badger. "If we could play all four quarters of 'A' game we could have more wins under our belt."
The game was a success for the Rams and also for the community as the "Pink Out" game was dedicated to breast cancer awareness. Students wore their pink out and MV clubs set up booths with fundraisers including a duck drop, t shirt sales, and face painting.
Football players wore "Pink Out" jerseys dedicated to people in the community who have been affected by cancer. The jerseys were given to those people during a ceremony after the game.
"[The jersey dedications] means a lot," said Evan Leake. "We don't know what they go through with cancer, but it's really happy to see a smile on their face because it is a serious condition with life and death situations."
Along with the "Pink Out" theme, Friday's game was also senior night and the last home game of the season.
"It was a very special night with it being my last game as a senior on that field in front of that crowd," said Nick Malone. "It was an amazing a night I won't forget – especially being the first home win ever on that field."
"It's just crazy that my senior year of football is almost over and that I'll never be able to step back on the field and protect my turf again," said Eli Badger.
"I feel good that the seniors got to win their last home game against Centralia. The goal this year was not just to win games but to win important ones, and that was an important one," remarked Kessler.
The rams have not concluded their season quite yet, and hope to build upon their victory as they continue onto next week's game.
"We're excited about our upcoming game against Mt. Carmel on Friday. Hopefully we will end the season with three wins," said Coach Kessler.
About the Photographer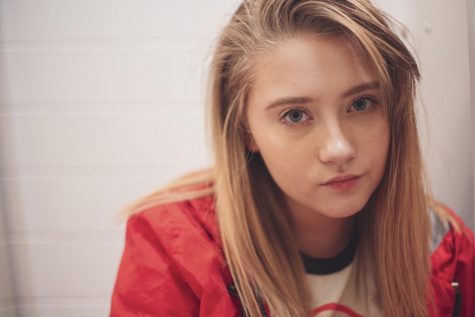 Emily Sinnett, Executive Assistant
An avid coffee consumer, over thinker, and lover of adventurous escapades