Rams Football Defeat Mount Carmel as Season Ends
The Rams finished their 2018-2019 football season with a third win on October 19 against the Mount Carmel Golden Aces.
MV executed several offensive plays during the game, including a touchdown completed by Evan Leake, '21 and Amir Spann, '20.
The Rams also maintained a strong defense throughout the game, with several pass deflections by Brody Rutherford, '20.
"There were a lot of big hits from the whole team. Defensively we locked them down," said Kijah Banda, '19.
MV defeated Mount Carmel with a final score of 18 to 8.
This was the final game of the season, and for many players, the last time they would step on the field as a Ram.
"I was good at first, but then once the clock hit 0 it really set in I won't be able to put that jersey on anymore," said Nick Malone, '19.
"Finishing on a win was amazing and knowing that I was able to take part in turning this program around has been a honor. I'm very proud to call myself a ram," said Banda.
"Having to come to the grips with the fact that I won't ever play another game with my brothers really is surreal. We have become a family and these boys are going to big things in the next few years. I love everyone of them and I would do anything to pad up with all of them one more time," Banda added.
A senior, Eli Badger said, "Enjoy every little bit of high school that you have left because it goes by so fast."
As some players say goodbye to the field, others are already excited to return next season.
"The only thing on my mind is next season," said Evan Leake, '21. "Watch out for the Rams."
About the Photographer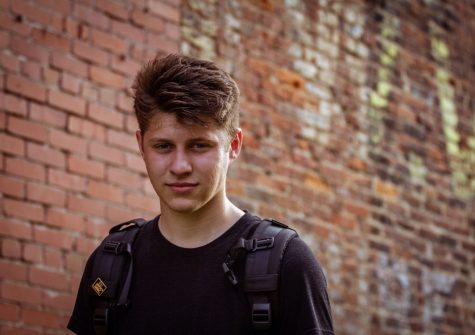 Grant Smith, Editor-In-Chief
When I have an idea, I write it down and share it with you