Wilson Reflects on Taylor Swift's Midnights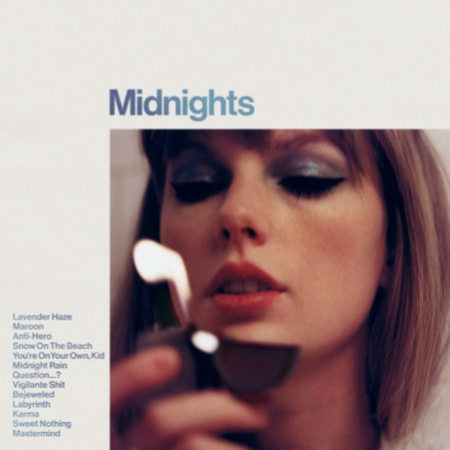 A very rare occurrence in my life happened on Thursday, October 20, 2022: my mom allowed me to have a sleepover on a school night. My friend, Kadence, stayed over as we awaited Taylor Swift's tenth studio album release at midnight of her latest album: Midnights. I have been a huge Taylor Swift fan ever since my 7th birthday when my Aunt Whitney bought me Taylor Swift's Speak Now as a gift. The release of this album was hugely anticipated by me.
Upon first listening, I was unsure.  The album has a different sound to it.  It is definitely more of a pop album than her latest work which took more of an indie approach.  The album is not what I was expecting, so I think that made me quick to judge. After re-listening I had more of a feel for the album. Swift's lyrics remain intricate and deep but are produced to an upbeat tune. I would say watching the lyric videos gave me a much different perspective on the overall theme of the album. I would be lying if I said that I thought it was her best work, but claiming the album is bad would be equally untruthful. I'm not sure that I have had enough time to state a finite favorite song, but the tracks "Maroon", "Anti-Hero", "Midnight Rain" and "You're on Your Own, Kid" are the songs I have found myself gravitating toward. On the other hand, as of now, I do not love the song "Karma." 
 Perhaps one of my favorite things about being a Taylor Swift fan, or Swiftie, is that Taylor is constantly planning surprises and schemes for her fans.  After the album was released at midnight, she surprised everybody with seven bonus tracks later that night to accompany the original thirteen. Three of the bonus tracks have quickly become some of my favorites.  These include "High Infidelity", "The Great War", and "Bigger Than the Whole Sky."
This album has already made history.  For Spotify, a popular music streaming service, Taylor now holds the record for the most streamed artist in a single day and most streamed album in a single day with the release of Midnights. 
 During the pandemic, Swift released Folklore and Evermore. These albums are known for their slower, sad atmosphere.  Midnights could not be more different. I feel like this album reaches back into her older music. Midnights reminds me of other albums in Swift's discography such as 1989, Reputation, and Lover, to an extent. I had the privilege of seeing Taylor Swift perform live during her Reputation world tour in 2018. It was easily the best concert I have ever been to and I have attended a lot of good ones. I am hoping I will be able to see her again if she goes on tour for this album.
Time will tell how this album will fit into my current rankings and how each song will grow on me. I know many students share a love for Taylor Swift and her music. I look forward to hearing others' opinions on the album and learning more about the meanings others may interpret behind the lyrics.