5th annual Popcorn Pete wows audiences in Schweinfurth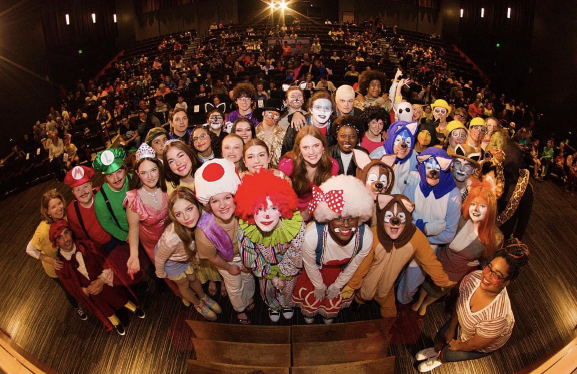 MV's theater department staged another great edition of Popcorn Pete in the Schweinfurth Theatre Friday, April 28, and Saturday, April 29th.
"This is the 57th annual show, Popcorn Pete is a clown who hosts a children's variety show each year in the Schweinfurth Theater at Mt. Vernon Township High School (MVTHS).' says Mrs. Raquel Bliffen
Mv's cast and crews for the upcoming show have been preparing and setting up for the big night since the beginning of the school year.
"We have roughly 40 actors this year and about 15 other students on the crews including stage, tech, and costume" stated Savanna Collins
"It takes everyone to put this show together! We use as many people in the theater as we can and sometimes we even take volunteers outside of the theater!" added Amaura Yoder
Popcorn Pete consists of a wide variety of characters from popular children's shows, and movies.
This year we will have characters from Puss in Boots, Minions, Baymax, Bad Guys, Bluey, Barbie, and Mario along with a new character Poptart Penny! Says Collins
Even though this is the 75th annual show, there have been a few years of no production for Popcorn Pete.
"MVTHS took it over in 2014. There was no show in 2013 when Junior Women's Club dropped it. There was no show in 2020 due to Covid. We held our first production in 2014. There was no show in 2020 due to Covid and there was a limited audience in 2021 but it was filmed and posted for FREE of charge for families to watch at their leisure." said Mrs. Raquel Bliffen
The Theatre department is run by Mrs. Mary Beth Mezo, and Mrs. Raquel Bliffen.
"I handle all sponsors, publicity, tickets, merchandise, etc. Mary Beth Mezo handles the production (script, performers, sound/stage crew, etc.)," stated Mrs. Bliffen.
Mvths has not always owned popcorn, Pete,
"The club fell apart and no show was held in 2013. Another former JWC member and myself, both teachers at MVTHS and sponsors of school organizations were saddened by the loss of such a great community tradition. The four shows, over one weekend, are nearly sold out shows…several thousand attendees each year" Says Mrs. Bliffen
Not only does MV have generations of families that attend each year, but also students who return each year to put on the show.
"This is my second year of being in Popcorn Pete! I played Rocky the recycler dog from paw patrol last year," Stated Yoder
"Popcorn was my first theater production my freshman year so this will be my 3rd year in Popcorn Pete and my second year as Popcorn," added Collins
Even though it takes a lot of time and effort it is worth it in the end.
"I'm really excited about this year's Popcorn Pete, I'm ready for the action, and I'm even more ready to see the smiles on those kids' faces when they see some of their favorite characters jump out of the screen and onto the stage," says Yoder
"I love watching the children enjoy their favorite characters come to life," added Mrs. Bliffen.